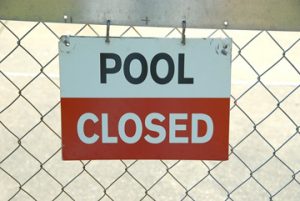 British Columbia's Maple Ridge Leisure Centre's aquatic facility had to undergo a second shutdown for three weeks starting June 29 to conduct a drainage and cleaning operation aimed at removing tiny metal wires from the pool.
Earlier on June 20 the pool was closed when metal wires were found in it, and the maintenance staff performed a magnetic sweep operation to remove the metal debris. Unfortunately, after reopening, once again on June 29, the facility had to be closed for an indefinite time period after staff confirmed more metal debris could be found in the lane and leisure pools, and the hot tub.
During the closure, a thorough inspection revealed the debris was a residue of cables connected to an overhead speaker system running along five ceiling beams of the facility.
The following maintenance operations then ensured the clearing away of all debris, the drainage of pools and an exhaustive clean of the pool tanks using a magnetic sweep. The pathways, storage rooms, sauna, steam room, and pool decks were also thoroughly cleaned.
Maintenance workers accelerated tasks that are generally performed during an annual, scheduled shutdown, including painting, deep cleaning the aquatics area, and equipment, checkup during the closure. This ensures that the pool will remain open for the yearly scheduled four-week maintenance in August and September.