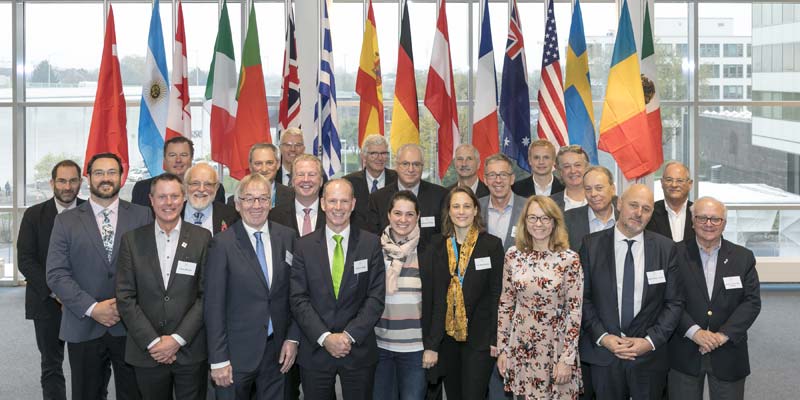 Representatives of pool and spa/hot tub associations from 16 countries met in Cologne, Germany, earlier this month to form an international partnership called the World Alliance of Pool & Spa Associations (WAPSA).
Koelnmesse organized the meeting during the Aquanale trade show with the following countries present: Australia, Austria, Canada, France, Germany, Great Britain, Greece, Italy, Mexico, Portugal, Romania, Sweden, Switzerland, Spain, Turkey, and the United States.
The hosts were Bert Granderath, vice-president, and Dieter C. Rangol, managing director, of the German Bundesverband Schwimmbad & Wellness e.V. (bsw), Andreas Petridis, president of the European Union of Swimming Pool and Spa Associations (EUSA), Chris Hayes, managing director of the British Swimming Pool Federation (BSPF), and Rich Gottwald, president and managing director of the Association of Pool & Spa Professionals (APSP).
During the meeting, the representatives of the different organizations agreed to create this informal working group, which would be open to pool and wellness associations worldwide. Initially, WAPSA will concentrate on consolidating data and statistics from all the associations, as well as exchange training and development concepts and issues relating to safety.
According to the Pool & Hot Tub Council of Canada's (PHTCC's) national secretary, Dave Warren, who attended the meeting, there are tremendous benefits to the industry worldwide by working together. Many issues aquatics associations face are common to all, and this is especially true in areas such as standardization and education.
"By working together we can share data and education programs, as well as providing a high level of credibility when working with government bodies," says Warren. "One of our first tasks will be collecting and sharing data and statistics, which will be of great benefit to our manufacturers and dealers alike.
"Further, our Canadian members will see more educational opportunities in the future, as well as a higher level of credibility."
The next meeting will take place November 2018 at Piscine Global Europe in Lyon, France.