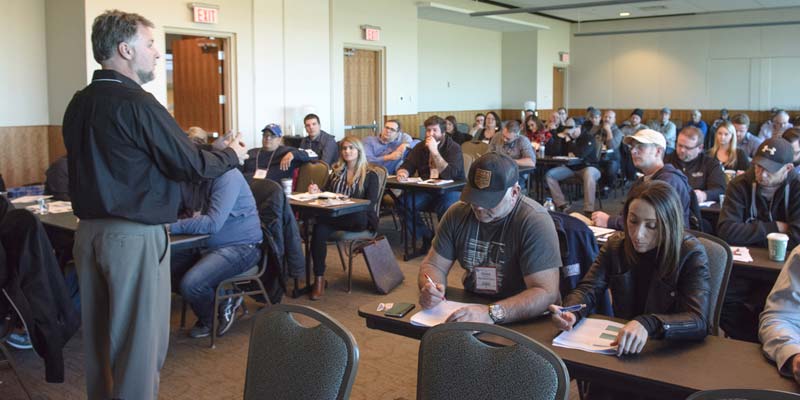 Attendees of this year's Canadian Pool & Spa Conference & Expo can expect a wide range of seminar and certification programs.
The Pool & Hot Tub Council of Canada (PHTCC) has released preliminary details on more than a dozen informational sessions that will be offered at this year's event. Once again, in co-ordination with the association's industry trade certification program, the council will offer a variety of 'short courses' on subjects such as hydraulics, water chemistry, pool installation, automation, and tips and tricks of the trade.
Also returning is the National Swimming Pool Foundation's (NSPF's) two-day Certified Pool Operator (CPO) course, which has become a staple of the conference. Additionally, the Association of Pool & Spa Professionals (APSP) will offer its Certified Maintenance Specialist (CMS) program. The two-and-a-half day course will guide students through the APSP Service Tech Manual and help attendees gain an understanding of pool circulation and filtration, maintenance, water quality, electrical systems, and heaters.
This year's event also marks the return of the Genesis educational program. Select short courses exploring the engineering of submerged lighting and the construction of outdoor kitchens will take place, along with Genesis presentations discussing topics such as recommending equipment upgrades to customers, as well as strategies for transitioning a company from service to construction.
Conference programs are sold in package formats. The member cost for the PHTCC's short courses and seminars is $160 and $360 for non-members. Admission to the NSPF's two-day CPO program is limited to 50 students. The member price for APSP's CMS course is $765 and $840 for non-members, while the Genesis short course package is $535 for members and $575 for non-members. Additionally, select expo presentations will be free to members, with a cost of $40 for non-members. A seminar package is also available at a cost of $50 for members and $75 for non-members. All prices include HST.
This year marks the 38th edition of the show, which once again returns to the Scotiabank Convention Centre in Niagara Falls, Ont., from Dec. 3 to 6.
For details on how to register, click here.