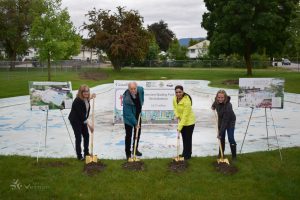 Officials broke ground on a $3.3 million revitalization project for Greater Vernon, B.C.'s Lakeview Wading Pool, to increase accessibility and create a sustainable space for the community.
The project will include a replacement of the pool basin; a new change room, washroom, and mechanical room building; and enhancements to the park with the addition of a small spray park.
The project is jointly funded by all levels of government, with a combined federal-provincial contribution of nearly $1.9 million from the Canada-British Columbia Investing in Canada Infrastructure Program (ICIP)—Community, Culture and Recreation.
"This is an extremely exciting project for our community," says Mayor Victor Cumming. "We've heard several stories from people who played in the pool as a kid many years ago, and as they got older, they brought their own kids—and grandkids—to experience the same great fun. This pool has served several generations in the Greater Vernon area and we know this revitalization project will make it possible to serve many more."
As part of the project, the pool will feature a different shaped basin for accessibility purposes. However, based on the results of public engagement conducted earlier this year, the site will still feature the peanut shape in creative ways, to pay homage to the former pool—which was often referred to as the "Peanut Pool."
The new pool and spray park are tentatively scheduled to open in summer 2023.