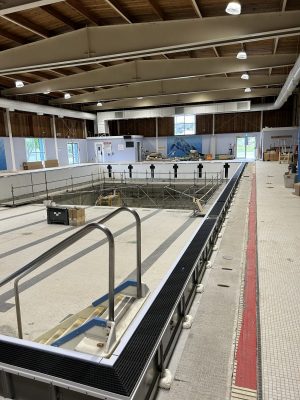 The awaited opening of the newly renovated District of Port Hardy's indoor swimming pool has been delayed to mid-December due to a setback in phase two of the project, with the unexpected delay in the arrival of the dehumidification system.
The pool began the first phase of its renovation last year in October, with the second phase kicking off in March 2023.
According to a notice by the District of Port Hardy, the delay is due to issues such as supply chain disruptions, contractor availability, unexpected emergencies, and delays in the design and permitting processes.
In providing further context, the district says the project encountered its first setback during phase two when the dehumidification system, responsible for maintaining the pool area's dry air, experienced a delay when arriving on-site.
Initially, the pool authorities anticipated its arrival by the end of October 2023, with installation in early November. In response, the authorities explored the possibility of implementing a temporary system to ensure an on-time opening with only a minor disruption once the new unit arrived.
The associated cost for this temporary solution amounted to approximately $40,000. However, as completion of the remaining tasks reached a close, including tiling and the time required for commissioning, the feasibility of introducing a temporary system diminished.
Consequently, the filling of the pool with water and testing can only start once the new dehumidifier is installed, leading the pool's commissioning toward the end of November. Subsequently, testing, training, fine-tuning, and the final permitting process will follow, which includes obtaining the health permit. This entire phase is expected to take approximately two weeks.