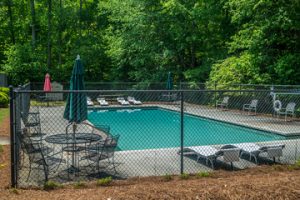 The City of Charlottetown, Prince Edwards Island, is reviewing a replacement to the city's current backyard pool fencing bylaw with a requirement for pool covers.
According to The SaltWire Network, the city initiated the review in response to requests from property owners who were concerned about fencing costs and aesthetics of their backyards. The requirement for erecting 1.8 m (5.9 ft) high fencing or structure around backyard pool pools exists to meet safety concerns.
According to CBC, the city's manager of planning and heritage threw light on the discussion by saying the proposed covers must be solid: "It's just not like a fabric type of a cover, it's a permanent type of a cover that you can stand on, a motorized piece of technology, which can be locked. And so some property owners would prefer to invest possibly in that type of technology. And if they do, they're suggesting or claiming that once the pool is closed, it is as effective as a fence."
Councilor Terry MacLeod, chair of the planning committee instituted for the review, commented that several issues need to be accounted for in deciding upon the removal of the law, liability being one of those, lest someone were to fall into a pool and drown. Even though insurance coverage exists for homeowners, there is no citywide insurance that covers such accidents.
Enforcement of the changes to the law would be another issue, as MacLeod commented in the report: "Would we need to train a building inspector? Does it become the responsibility of the bylaw inspection officer?"
According to CBC, pediatricians in Charlottetown have expressed disapproval over the proposed bylaw change, citing morbid examples of previous incidents from their experiences where children drowned in pools. They even went on to say that hard-top covers could provide additional protection on top of the four-sided fencing with a self-closing door. Barbara Byers, national media spokesperson for the Lifesaving Society, echoed the same:
"I think a pool cover is great, but not instead of a fence, but in addition to. So, the Lifesaving Society's position, and this is similar to water safety, drowning prevention advocates from around the world, is that layers of protection are the most effective way to reduce drownings in backyard pools."
Councilor MacLeod said pediatricians' insights would impact the decision of the council to a high degree.