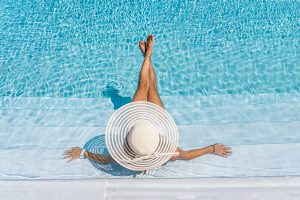 Residents of a luxury apartment block in London, England, were shocked to discover the sky-high price for heating their building's glass-bottom pool.
According to a news report from nzherald.co.nz, the Embassy Gardens near the new U.S. Consulate headquarters caught attention for the cost of heating its pool that stretches between two tower blocks.
The Sky Pool is suspended 35 m (114 ft) in the air and was designed to create the illusion of flying. However, the pool costs approximately $326,485 to keep heated throughout the year, equalling out to about $180 a swim.
The pool is only open to residents of the multimillion-dollar apartment block and is kept at a standard temperature of around 30 C (86 F).
The annual service charge of $17,889 is too steep according to occupants, who say it is largely unused in winter, according to the news report.