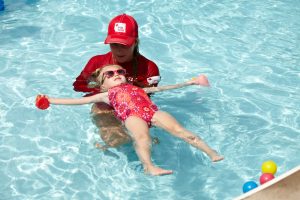 After 76 years, the Canadian Red Cross plans to stop offering its swimming lessons by the end of 2022.
According to a report by CBC News, the organization is ending the program to direct more attention to humanitarian demands, such as disaster and pandemic response, opioid harm reduction, and senior caregiving.
The Red Cross is encouraging its water safety training partners to transition to Lifesaving Society Canada—a charity offering water safety education programs including lifeguard training, as well as swimming lessons for all age groups through the Swim for Life program. However, partners in First Nations communities can still continue with the Red Cross as part of the Red Cross Indigenous Peoples Framework.
Andrea McCallum, former president of the Vancouver Open Water Swim Association, told CBC News she would not be the swimmer she is today if it were not for the Red Cross.
"I was doing swimming lessons and then did competitive swimming at eight years old, and then became a synchronized swimmer and then a water polo player, and now I'm an open water swimmer. It all started with the Red Cross," McCallum said in the report.
Since 1946, the organization has provided swim training and lifesaving skills to more than 40 million Canadians.