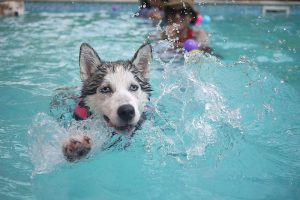 The City of Toronto recently opened nine pools to let Toronto's dog owners bring their pets in for a swim.
Dogs were allowed to swim for two hours, under the watchful eye of their owners.
Another dog swim will be allowed next Sunday, Sept. 11. at Riverdale Park East, 550 Broadview Ave.
Owners who wish to bring their dogs for the next week's swim must be mindful of the following:
No other animal or pet is allowed to swim other than dogs.
If any dog needs help of any sort, they must be taken out from the pool immediately.
Dogs must not be left unattended and an adult aged 18 or older must stand by the pool and always watch them.
An adult can bring along at a maximum two dogs.
Owners can just walk in without registering and sign in at the spot.
Rabies vaccination proof must be provided.
Visitors 12 or older who just wish to view the activity at the pools by the side are allowed
Any dogs showing signs of aggression will be removed from the pool area.