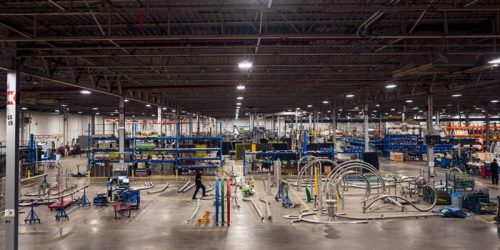 Vortex Aquatic Structures International, a manufacturer of water attractions, has relocated its facilities.
The company has moved to the former Ford Motor Co., factory in the Montreal community of Pointe-Claire. With more than 20,438.7 m2 (220,000 sf) of space, the new facility is three times larger than its previous location and can handle the growing global demand for the company's products while maintaining lead times and quality. The brand is also expanding its team to reflect this move.
The new facility includes an impressive design studio and product testing labs to support Vortex culture. Office spaces have been designed to enable the company's collaborative work environment and to stimulate creativity.
Further, to accommodate employees and to promote work-life balance, an in-house fitness centre is part of future plans. In addition, with sustainability as one of its core values, the company renovated and modernized the location, upgrading all mechanical, electrical, ventilation, and roofing systems with high-energy efficiency systems.
The move comes as the company prepares to celebrate its 25th anniversary.
"Our new facility will help us expand our capabilities in all facets of our business, including manufacturing, R&D (research and development), and sales," said the company's president, Stephen Hamelin. "We are investing in new equipment, technology, and our people to prepare the organization for the next 25 years."