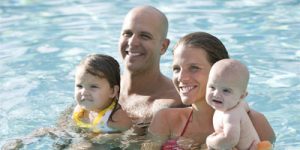 Water Safety Week runs from June 1 to 8 and seeks to inform the public on how to be safe around water.
Here is some advice from Red Cross to have a safe session:
Protection such as four-sided fencing with a self-closing, latching gate should be in backyard pools.
Adults should be supervising young children when they are near or in bodies of water.
Avoid diving in home pools and if one does jump it should be feet-first.
Avoid diving head first.
Swimming in currents should be avoided one should be equipped to swim in one.
Empty hot tubs after use.
An adult should always be present when a child is bathing in water.
The organization urges that children should be supervised if they are near any body of water—even if they can swim. The group emphasizes learning swimming skills and water safety, with the organization providing training in both.