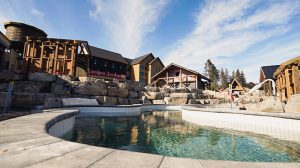 Pools at Whitby's Thermëa Spa Village, which opened to the public on Oct. 6, have been closed following a discovery of staph bacteria in its Källa saltwater pool, which made a handful of customers sick.
Social media complaints and reports by customers of skin rashes, flu symptoms, ear infections and inflamed lymph nodes led the Durham Health Department to re-inspect Whitby's Thermea spa. Last month, the department had cleared the spa for opening.
Groupe Nordik, the company behind the spa, says the staff were informed by the health department of the presence of pseudomonas and staphylococcus bacteria in the Kalla pool—a shallow flotation pool housed underground on the spa site—and the health department asked for the pool to shut down.
According to a report by DurhamRegion.com, owner and CEO of Groupe Nordik, Martin Paquette says, "We took immediate action, closing the pool and hiring a team of water experts to conduct a full investigation. Although all our other pools were safe, we have proactively made the decision to close them so that we could do a full audit of the installations."
Other facilities at the spa, including saunas, cold rain showers, lounge areas, and restaurants, remain open to visitors.
Thermea found an issue with the ultraviolet (UV) lamps and bromine disinfectant in the Kalla pool, and Paquette said a thorough audit, externally and internally, will be done of all the equipment at the facility.
All pools on the site will remain closed until there is proof of the water calibration systems working completely fine.