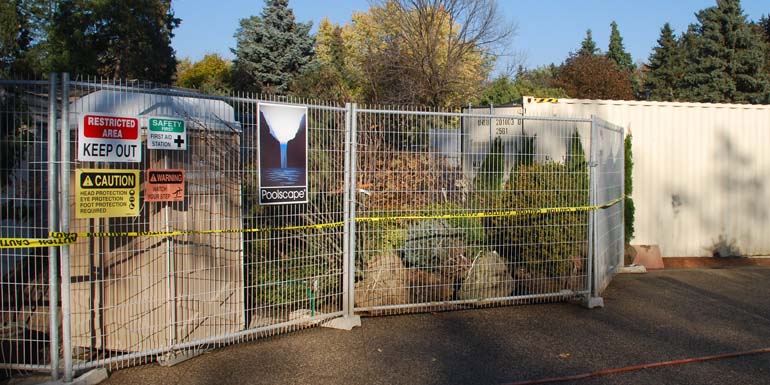 By Barry Justus
Residential projects under $2 million make up the vast majority of aquatic construction projects in North America. No matter the project's size, however, most contractors naturally engage in some type of informal site setup and project management. The facilitation of planning, scheduling and controlling activities to meet project goals improves organization and co-ordination, while also allowing builders to make better decisions. Furthermore, a well-prepared systematic approach provides builders with the opportunity to catch, or even avoid problems early on, resulting in higher profits and satisfied clients.
Plan from start to finish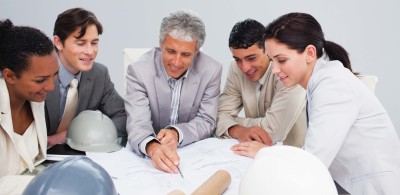 A pool builder's job starts long before he/she starts digging, and ends only on successful closure of the project. As such, detailed plans are not only necessary during construction, but also to successfully bid on a job. The time spent preparing for a project—long before arriving on site—will pay off large dividends in time and profit. Site plans should detail the following:
Access routes;
Material/equipment storage, construction/crew parking and site trailer;
Hazards (e.g. gas lines, over head utilities, sewers, slopes, soil conditions, electrical lines, water lines, etc.);
Safety (e.g. temporary site fencing, fuel storage, first aid equipment, fire extinguishers, hoarding [tree preservation], silt fences, portable toilets, etc.);
Elevations, drainage patterns, setbacks, utility corridors, easements and rites of passage;
Electrical/water access and locates;
Sprinkler shut off (before construction); and
Construction details (e.g. concrete, decks, plumbing, irrigation, lighting, drainage, audio, gas lines, electrical and landscape plan).
Detailed site photographs, including pictures of access points, roads, curbs, sidewalks, buildings and neighbouring structures, need to be taken. All angles of the overall site should be included and updated on a regular basis as the project progresses. Not only are these photographs needed for planning purposes, but also for documenting the project's progress. Photos can also be used to protect the builder in the event of future problems or legal issues with inspectors, clients and subcontractors.
Review legalities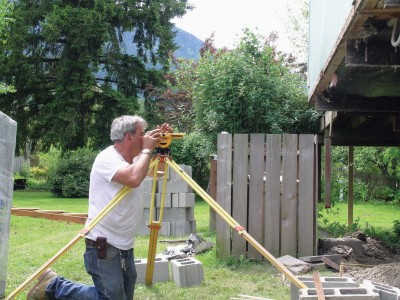 Contracts should define the project's scope, define liabilities and allow for changing contingencies as the job progresses. At this point, all licenses, permits, liability/workers compensation insurance for all contractors working on the project should be reviewed and completed.
Site conditions, geo-technical surveys and structural engineering services are all part of the pre-construction ritual. All necessary permits—including local building code requirements, electrical authority, municipal fees, curb deposits and bonds—must be posted. Forestry hoarding, conservation authority, park access, on-street parking permits, neighbour access rights and various municipal code requirements must all be adhered to throughout the length of the project. Many municipalities require a pre-site construction inspection of all curbs, sidewalks and roadways, while historical societies may limit materials, construction and designs. Depending on the time of year, builders may also face road use weight restrictions, which could impact excavated fill removal and the import of concrete aggregates and construction materials.
Pre-construction formalities
An onsite pre-construction meeting amongst all parties involved in the project—including the architect, landscape designer, structural engineer, project manager, subcontractors and client—should be held. This meeting will serve to review the plan and establish relationships, form alliances and co-ordinate the roles each party will execute.
Part of the pre-construction process is to inform the client of what they can expect, as most have no idea how a large construction project can impact their daily life. In addition to fulfilling the client's expectations, builders should inform neighbours about the project as well. This can be done by distributing a letter around the neighbourhood, prior to construction, to let neighbours know what to expect as well. By not leaving them in the dark, they are more apt to be courteous, rather than apprehensive, about the project. Information in the letter should include:
Project scope;
Projected timelines, including work schedule hours;
Information on permits, liability insurance, reputation of contractors and licenses;
Evidence of adherence to municipal bylaws;
Assurance of conflict resolution;
Emergency contact numbers, including the site supervisor's cellphone number;
Website and e-mail addresses;
Acknowledgement of their role in the project;
Thanks for their patience and understanding; and
Details regarding site safety and site and road clean up (daily and upon project completion).