What does the cost calculator compute?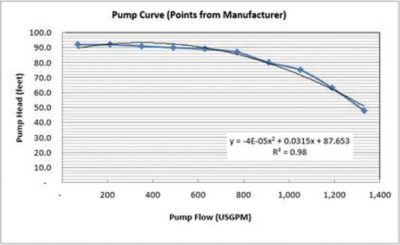 Online cost calculators have pre-loaded formulas that make it easier and faster for facility operators to get the figures they require to make key operative decisions. Ultimately, the calculator shows how reducing pump speed can save energy by a cube factor. The computation takes kWh and revolutions per minute (rpm) to determine the savings.
kWh = Energy
The 'quantity' of energy consumed.
For example, if the unit price for electricity is $0.125 per kWh then:
1 kW x 1 hour = 1 kWh or 1 kW x 2 hours = 2 kWh
on average, a 1.5 hp pump uses 2000 watts
2 kW x 8 hours/day = 16 kWh/day x $0.125/kWh = $2/day
Cost calculators have integrated pump affinity laws into the computation. This allows an aquatic facility operator to demonstrate that lower pump speeds save energy by a cube factor.
For example, reducing pump speed (rpm) by 20 per cent automatically reduces flow (litres per minute [lpm]/gallons per minute [gpm]) by 20 per cent. (See Table 2 on page 46). Energy consumption, however, is reduced by a cube factor. Therefore, a 20 per cent reduction in flow will provide almost a full 50 per cent reduction in energy (e.g. 0.8 x 0.8 x 0.8 = .512). Even a 10 per cent reduction in speed can reduce energy consumption by more than 25 per cent. (see Figure above).
Commercial aquatic facilities and utilities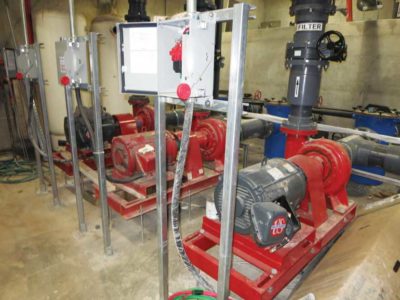 Each year, there are an increasing number of reports discussing the energy crisis that North American electricity grids increasingly face. So much so that many regions (in Canada and the U.S.) have implemented the use of smart meters to track electricity use by the hour, while some areas have had to endure brown-outs and/or rolling black-outs. With an aging infrastructure and constrained capacity, utility providers in the U.S. are looking for ways to get rapid reductions in the amount of power they need to provide.
That said, with more than 300,000 commercial aquatic facilities in the U.S., pumping 265 billion litres (70 billion gallons) of water, utilities are looking at commercial aquatic mechanical rooms
as an area where they can get quick reductions with respect to power demand. In fact, the aquatics industry could make a huge impact in this regard. For instance, using an average figure of $0.0583 per kWh with a 7.63 hp pump per every 37,8541 L (100,000 gal) of water, a 20 per cent reduction in speed for one hour would free up four medium-sized power plants. If pump speed was reduced by 50 per cent for one hour, aquatic facility mechanical rooms could possibly free up seven medium-sized power plants.
For example, CPS Energy, a local utility provider in San Antonio, Texas, is one energy company that is looking for ways to reduce power usage. As Texas is one of the largest states with respect to the number of commercial aquatic facilities, with nearly 30,000 installed pools as of 2012, the city of San Antonio worked with the utility provider to conduct an energy audit using tools similar to those of an aquatic facility cost calculator. As a result, it was determined that retrofitting 22 city-owned pools with updated equipment, the utility would experience a dramatic reduction in energy demand and the city would get a payback on the project in less than a year.
This project primarily focused on reducing pump speeds at the 22 aquatic facilities, whereby replacing older pumps with new VFD equipment. The total project cost, for equipment and labour, was $137,000; however, annual electrical savings were $63,000 and CPS Energy gave the city an $87,000 rebate. As a result, the city's initial costs were paid back within nine months and a five-year return on investment (ROI) of 530 per cent is expected.