By Jason Cramp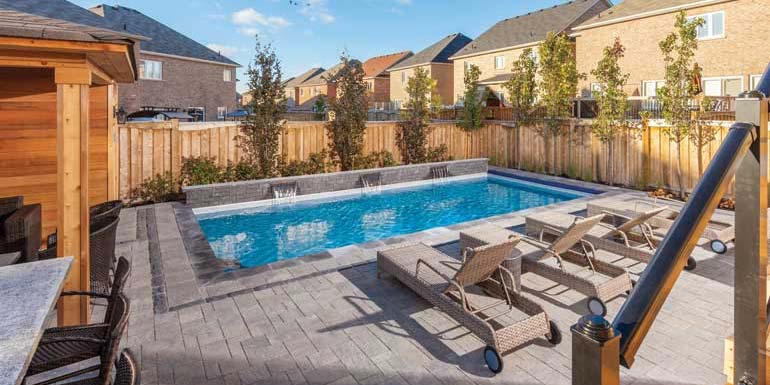 Despite being knocked down, the pool industry always finds a way to get back up again. During years such as 2014, when pool permit registrations dropped after a series of growth between 2011-13, the diversity of services offered by many pool companies (e.g. maintenance, renovations, repair, etc.), along with their ability to reduce operating costs by adopting new systematic approaches to business management, project design, and construction are what keeps them profitable. It is also what keeps them optimistic for the coming season, as with changing climates—weather and economics—choosing the right forecasting technique can be tricky.
For instance, who would have thought you would be able to draw a line through the Ontario-Manitoba border, separating east from west, with each experiencing extremely different weather anomalies? Last year, the region extending from the Great Lakes to Newfoundland and Labrador endured a record-cold winter despite it being one of the warmest globally in 135 years. On the flipside, drought, wildfires, and blistering summer temperatures each took their toll on different regions across the Prairies to the Pacific Coast.
"The balmier 2015 summer throughout much of the country generally helped the industry rebound economically after two relatively soft years," said the Pool & Hot Tub Council of Canada's (PHTCC's) executive director, Robert Wood. "However, there were a couple of regional exceptions that did not see improvements in their fortunes. The weakened economy in Alberta slowed sales in this province significantly. As well, the Quebec market continued to struggle with falling demand. In a strange twist of fate, the aftermath of an especially harsh winter in the Maritimes generated additional business in the form of rebuilds/repairs."
A wait-and-see attitude
Even though the weather provided pool builders no favours with respect to getting a shotgun start on the season—especially in the country's largest markets—the industry, and its clients for that matter, seemed to have learned a lesson from the 2014 season. Those who remained optimistic for 2015 were, in fact, rewarded early on as opposed to the preceding year. In comparing the numbers, 402 additional pool permit registrations were recorded during the first six months of 2015, representing a 9.4 per cent increase year-over-year. In fact, when breaking up last season into three categories: start of year/early spring (January to April), mid-spring/late summer (May to August), and fall/winter (September to December), pool permit registrations were up in each. This also revealed some trends specific to the 2015 construction season. Although the year started strong, winter seems to arrive later, but lasts longer. As a result, almost 80 per cent of all pool permit registrations last year occurred during the last eight months of the year. For example, between May and August, pool permits were up by one per cent, while a warmer-than-expected September and extended fall continued to keep pool builders busy, as 14.6 per cent more permits were registered between September and December.
Overall, Statistics Canada says building permits increased by 5.4 per cent across Canada, from 10,154 permits in 2014 to 10,698 in 2015. Permit registrations in census metropolitan areas (CMAs) also increased in 2015 by 7.9 per cent, representing 551 more permits than in 2014.