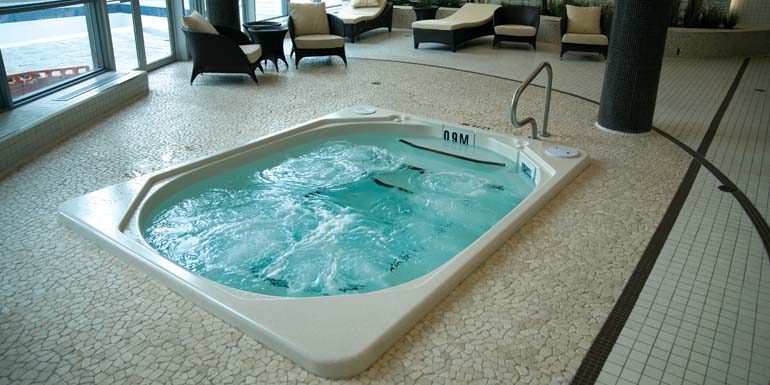 By Dale Papke
While portable acrylic hot tubs have dominated the residential market for almost 30 years, pre-manufactured acrylic or other non-concrete commercial hot tub materials have only become popular in the last 10 to 15 years as an increasing number of architects, developers and operators are selecting these products for commercial projects.
The reason for this is their lower upfront costs, integral waterproofing characteristics, lighter weight loads, ease of installation and less upkeep in comparison to traditional concrete commercial hot tubs. However, the growth and acceptance of acrylic and other concrete alternative materials has been a slow process.
While most concrete swimming pool specialists have considerable experience specifying, selling and installing commercial concrete hot tubs, only a small percentage of residential hot tub dealers sell into the commercial market. With a two- to three-year turnaround (from design to completion), along with extended payment terms and multiple contact involvement in the commercial sector, some residential hot tub dealers often pass on this type of business.
As a result, architects and designers (unless successfully approached and marketed by a company experienced in commercial acrylic installations), tend to specify products they are familiar with, i.e. conventional concrete hot tubs.
Tips on breaking the commercial barrier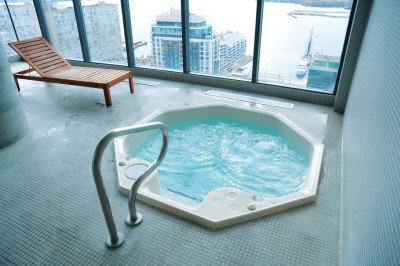 One of the best ways for an acrylic hot tub manufacturer to overcome the obstacle of entering the commercial hot tub sector is to market its products to the appropriate audience, with the goal of having them specified by an architect. This can be accomplished by consistently advertising commercial acrylic products in magazines and attending trade shows, which cater to architects, designers, developers as well as managers and operators of commercial facilities such as resorts, hotels, health clubs and day/destination spas.
The benefit for a manufacturer in getting its products specified, and listed in the blueprints by an architect, is to make it more difficult—however, not impossible—for a dealer to sell builders a commercial acrylic unit or even a stainless-steel model from another manufacturer.
However, the lack of a dedicated dealer network is a common problem for most commercial acrylic hot tub manufacturers. Unlike the residential market, where a dealer can consistently sell up to several hundred hot tubs a year and in the same time become an expert in all required areas of marketing, sales, installation and service, the average commercial dealer may only quote two or three projects a year. As a result, some dealers who do not do enough commercial business to gain the required experience or knowledge must rely on the manufacturer to provide assistance.
In this sector, manufacturers can easily bring on as many new construction projects to its dealers as the dealer will bring on itself. However, manufacturers rely heavily on its dealers to bring in retrofit orders where they may already have a service relationship with the commercial client (end-user). For example, if a small motel or health club has their hot tub serviced by a local pool or hot tub dealer, they will likely go to that dealer to get a cost estimate on a replacement hot tub as opposed to calling the manufacturer.
In some cases, if the manufacturer is successful in getting its products specified, this can quite often close the sale on behalf of the dealer. Some manufacturers will even ship the pre-plumbed shell, with factory-installed bracing and pre-plumbed equipment package to the dealer or directly to the job site. This allows the dealer or mechanical contractor to simply supply and run the plumbing and perform the startup and training. In most cases, a subcontractor will complete the decking and electrical work.