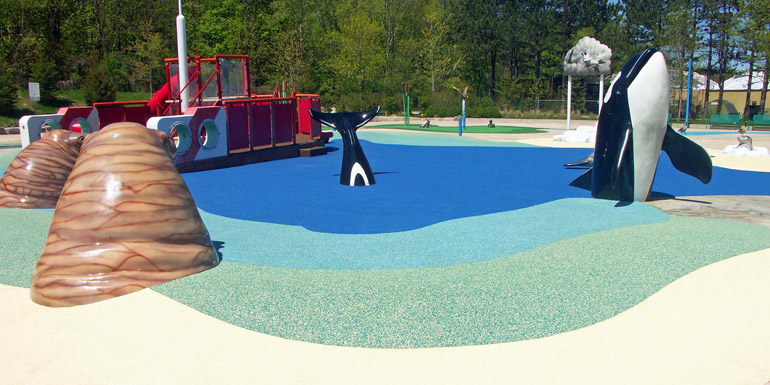 By Barry Meakings
Splash pads are a fun and affordable addition to a community park or garden, amusement facility, zoo, hotel, or campsite. In fact, with the recent release of new data from the U.S. Consumer Product Safety Commission (CPSC) stating children younger than five represent nearly 75 per cent of those most at risk from drowning, splash pads are quickly becoming the go-to water attraction for these facilities. With zero-depth standing water, they incorporate both water treatment and recirculation systems as well as provide assorted play features while limiting water waste and the risk of drowning.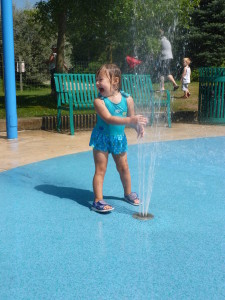 A splash pad is a safe aquatic playground that features different areas of interactive water elements and play experiences. Activities range from simple nozzles that spray water into the air to rainbow or mushroom-shaped showers and raised buckets that fill with water and randomly empty onto bathers. They offer a great opportunity for children to meet others and are a great aid in developing their water confidence.
Types of splash pads
While the majority of splash pads are designed to appeal to young children, some are specifically designed to cool off adults (i.e. joggers or concert goers). For instance, the splash fountain at Toronto's Dundas Square features 600 spray nozzles that shoot water straight up through stainless steel grills set directly in the middle of the main walkway. The nozzles rise and fall in unison, like the waves on a beach, so there are times when the water level is low enough for children to also play.
A recent trend has seen more sophisticated aquatic play features being designed and built that appeal to all ages. One example of this is the hydraulophone, a musical instrument, which uses water jets that can be manipulated by bathers to produce various sounds. This feature can be found at the Ontario Science Centre's 'Teluscape Exploration Plaza.' Similar to a splash pad, this feature is circular with various water pipes, which are part of the organ, rising up from the ground.
Another example is the Toronto Zoo's 'Splash Island,' which includes unique animal spray features to capture the spirit of the 'Ocean & River' theme on its immensely popular 1,022-m2 (11,000-sf) splash pad. Some of the spray features include a giant hippopotamus and whale, tortoises, porpoises, walruses, beavers, and otters. In addition to the spray features, a partially sunken ship provides low-level climbing and exploration activities.
The element of safety
While fun and exciting equipment is fundamental to a splash pad's play value, selecting the appropriate base (i.e. surface) is of equal importance. In fact, there are several standards and guidelines in place relating to slip-resistance and standing water for splash pad surfaces.
For instance, a July 2012 announcement by the Canadian Safety Association (CSA) Group, stated: "Drain unused water from in and around play spaces. The CSA standard Children's Playspaces and Equipment (CAN/CSA-Z614-07) outlines the need for equipment to drain effectively so that water is not trapped or collected—forming a pool. Standing water creates a drowning hazard and can become a breeding ground for bacteria, creating an additional public health related concern."
Another example is the April 2010 Ontario Public Health Standards (OPHS) Operating Procedures for Non-Regulated Recreational Water Facilities Guidance Document: A Guide to Safe Operations of Spray Pads/Splash Pads—Construction. It states play surfaces should be non-slip and comprise material that would reduce the risk of falls; and the spray/splash pad surface drains to exclude the possibility of stagnant water. This document's General Guidelines, Section 3.1: Structural Design also states surfaces must be designed to drain properly to prevent water from pooling and reduce the risk of slipping and falling.
To meet these standards, many designers/builders are considering the use of poured-in-place rubberized safety surfacing. These surfaces are comfortable, and have slip-resistant and impact-absorbing features, which, when wet, behave similar to a rubber bath mat. Rubberized surfacing not only prevents bathers from slipping, but also reduces injuries should a tumble prove unavoidable.
Benefits of rubber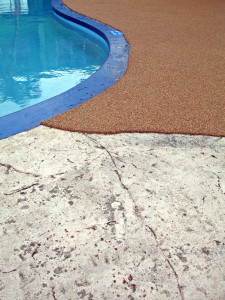 A major benefit of choosing rubber safety surfacing over more traditional products is its quick installation process. It can be applied over new or existing cracked, worn, or heaved surfaces such as concrete, asphalt, interlocking brick, compacted crushed rock, and flagstone. This allows the average splash pad to be completed in just a few days, without the need for noisy jackhammers and expensive debris removal systems. Unsightly blemishes or eroded areas on an existing surface are simply chipped away or filled, effectively levelling low spots and depressions prior to the hand poured and trowelled application.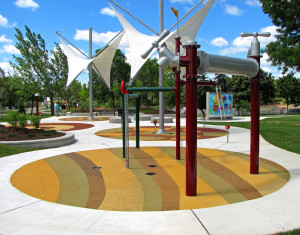 The general advantage of a one-day installation is a beautiful, seamless, carpet-like finish that can be walked on within 24 hours. Should it be necessary to take more than a day to install, the previous day's work can be expertly cut back to an optically suitable area to facilitate a neat, almost invisible join.
Rubber safety surfacing comprises high-grade ethylene propylene diene monomer (EPDM) rubber granules that are mixed with a strong urethane binder, making it flexible throughout the life of the product. In fact, should any shifting or cracking occur to the subsurface, it will actually stretch and expand, thus minimizing damage. This is a great benefit in Canada's freeze/thaw climate.
Unlike stone or cement, rubber safety surfacing also resists heat absorption, so it feels cool and comfortable to bather's feet. Further, its specially developed resins make the product anti-fungal, anti-bacterial, and resistant to ultraviolet (UV) light. When installed correctly, rubberized surfacing is resistant to cracks and chips and it will not delaminate from the subsurface.