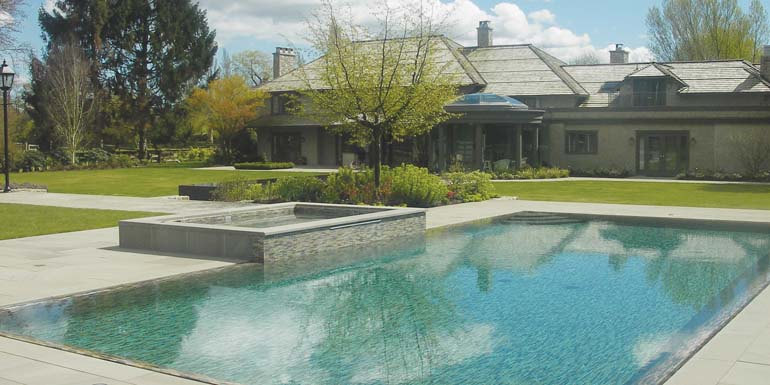 By Jason Cramp
Located in Vancouver's Southlands, an equestrian district predominantly made up of expansive land containing multimillion-dollar estates, is the site of an impressive custom gunite swimming pool, hot tub and water feature installation by Trasolini Pools Ltd.
Based on the homeowner's idea of creating an area for family entertainment, exercise and fun, Trasolini constructed a 6.1- x 15.2-m (20- x 50-ft) constant-depth game pool, which includes hidden, built-in anchor systems for volleyball, basketball and stationary swimming. The 2.4- x 3-m (8- x 10-ft) raised hot tub is attached to the pool and includes a cascading waterfall feature capable of producing a wide range of effects.
Both vessels have an all-tile interior finish comprising 19- x 101.6-mm (0.75- x 4-in.) Abalone. The tile's distinctive seashell mosaic surface adds subtle glamour to the overall design without overwhelming the simplicity of the surrounding landscape.
To further co-ordinate the pool with the property's appearance of extending into the horizon, Trasolini designed a 'wet-edge' pool to create the effect of the water maintaining the same level as the surrounding limestone patio.
A limestone pathway off the back of the house, which is also connected to the pool deck, leads to a 12.2- x 1.8-m (40- x 6-ft) reflecting pool that complements the structural architecture on the property and perfectly mirrors picturesque skies on clear sunny days. It has a depth of 381 mm (15 in.), is finished in extruded quarry stone and contains brass fixtures.
Raising the difficulty on this project is the fact the property's elevation is below river and sea level. To combat this, a substantial water well had to be constructed to keep the area dry, while certain parts of the installation had to be completed when ocean tides were low. As such, filtration cloth was used throughout to prevent silt from being drawn out during the dewatering process and the pool's structure was reinforced.
Trasolini Pools worked closely with Murray Sims Construction Ltd., also in Vancouver, who was responsible for constructing the cabana, patios, landscaping and home renovation.