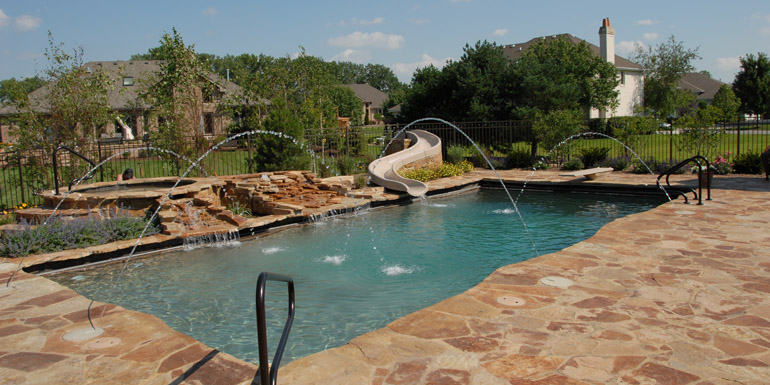 By Jill Thompson
Renovation projects are becoming a larger segment of every pool business. Profit margins on these projects are often higher than those earned in new pool construction. Not everyone is able to track which part of the renovation project makes the most money, but universally, pool builders say today's accessories are definitely contributing to the bottom line.
Accessories come in a wide range of categories—from slides and diving boards, to water features, games, fire pits, outdoor TVs, lighting, even control systems and variable frequency pumps and drives. Most pool builders will agree, once they are in the backyard of a homeowner who is interested in updating their pool, having the ability to offer various accessory-related options for consideration is beneficial to their business.
"It is important to ensure homeowners are aware of all the products available that can be added onto their pools," says Martin Rowland of Bama Pools in Florence, Ala. "Having knowledge about a wide range of accessories, at various price points, can play a factor in securing a renovation project and obtaining a lifelong customer."
Renovation key in today's economy
New construction is still the bread and butter for a majority of pool builders; however, many have found profits in renovation projects, and as a result are focusing more on this type of work. For example, a renovation project can range from $3,000 for a basic job to upwards of $150,000 to $250,000 for a complete remodel.
"In the past, we were strictly a new pool construction company; however, we do at least 100 remodel projects a year now," says Mike Clark of Pulliam Pools in Fort Worth, Tex. "With the change in the economy we realized the potential in renovation projects and four years ago started a department strictly dedicated to this type of work.
"Typical renovation projects run $10,000 to $15,000 and include replacement of tile, coping and plaster, as well as the addition of a water feature, slide or diving board. If we renovate the pool deck as well, it can turn into a $20,000 to $25,000 job."
Builders such as Sterling Pools, which has served the Peterborough, Ont., area for 53 years, has also seen a growing trend in renovation work and says it now represents 50 per cent of their projects.
"Renovation work is growing every year, as there are many older pools in this area," says Sterling's Wayne Couglin. "The accessory we sell the most on these projects are stairs, as most of these pools only have ladders. This is a great profit centre for us because we have to break up the concrete around the pool to install the stairs, which often leads the customer to re-evaluate their pool deck."
Builders that have been in the industry for a long time are now finding they are renovating pools they originally installed more than 20 years ago.
"My business reflects the evolution of the pool industry," says Rowland. "We built pools two decades ago for clients and their children. Now these clients are calling us back because they want to update their pool to entice their grandchildren to come and visit."