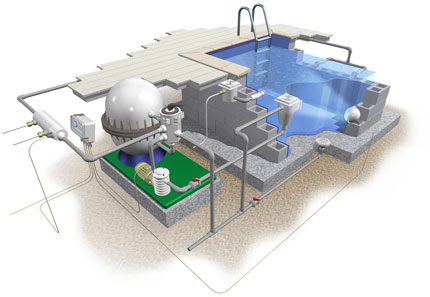 The Pool & Hot Tub Council of Canada (PHTCC) is requesting feedback from members with regards to the bi-national Consortium for Energy Efficiency's (CEE's) recently released draft of its Efficient Residential Swimming Pool Initiative.
This Canada-U.S. program, which includes energy efficiency performance specifications for swimming pool pumps and controls, looks to increase the purchase and installation of high-efficiency pool equipment for both new and existing residential swimming pools.
According to Rob Wood, PHTCC executive director, feedback from all stakeholders is welcomed. Members are asked to review the document and provide comment by Thurs., Aug. 16.
"We plan to compile all of the comments received and send a consolidated reply to the CEE on behalf of the Canadian industry," added Wood.
To maximize distribution of this request, the CEE, a non-profit organization that supports and promotes energy-efficient products, technologies and services, has also asked for input from various other swimming pool industry organizations, including the Association of Pool & Spa Professionals (APSP), Independent Pool and Spa Service Association (IPSSA), Foundation for Pool & Spa Industry Education (FPSIE), National Swimming Pool Foundation (NSPF) and the Master Pools Guild.
Once comments and supporting evidence have been received, the CEE will determine whether the initiative requires modification. Once approved by the CEE's board of directors it will become the basis of the consortium's work in the residential swimming pool industry. It will also be posted on the CEE's website, distributed to all interested members and industry stakeholders as well as shared with Energy Star® personnel.
For more information on the CEE, visit www.cee1.org.