By Tom Dankel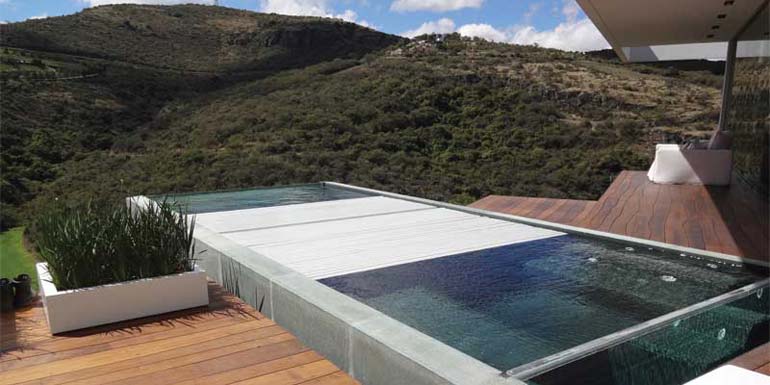 While still considered a niche component of the pool, automatic covers are gaining popularity thanks to their ability to reduce the operating costs of a pool and/or spa with the rising costs of energy, and water consumption in arid climates. In fact, for many builders, the automatic cover is as an important piece of equipment as the pump and filter, and they include them in their bids to clients.
For decades, the standard in Canada and the U.S., was the traditional type of automatic pool cover that required the use of tracks and leading edge extrusions. While these covers could be installed on new or existing pools, they were always in the shape of a rectangle. Therefore, this requirement limited designers, builders, and homeowners with regards to the overall watershape.
Enter the slatted pool cover
While slatted pool covers have been the standard in Europe for more than three decades, they were only imported domestically as one-offs and, as such, most of the industry did not know they existed. That was roughly until 2001, when they started to be marketed and manufactured in the Americas as a viable option for the pool and spa/hot tub industry.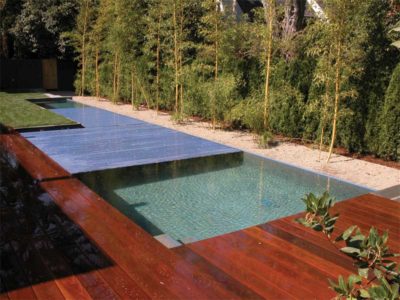 Thanks to the design characteristic of the hollow core cover slat, when capped and sealed, the three chambers create a 13-mm (0.5-in.) airspace, which make the cover buoyant and adds to its insulating quality. The slats are also semi-rigid, thus, when combined with the buoyancy, allows for the cover 
to be cut in any converging shape, eliminating the confines of a rectangle with the aforementioned track-type automatic cover.
In addition to hollow core slats, solid (closed-cell foam) core slats are also available. The former are available in a wide range of colours and types, while the latter are extruded out of polyvinyl chloride (PVC). The popular solar slats are a co-extrusion, and are made from polycarbonate (PC).
Water shaping has recently taken on an expanded art form—especially with overflow (Lautner-type edges) vanishing-edges, and other unique rectilinear designs. The slatted pool cover is ideally suited and can provide automation on all of these pool types, as they can be installed in many more applications. In fact, on larger vessels, sometimes a combination of two or three systems can be used to provide full coverage of the water surface. On the other hand, track-type pool covers can only be installed at one end of the pool (either recessed as a new construction, or deck-mounted as a retrofit).