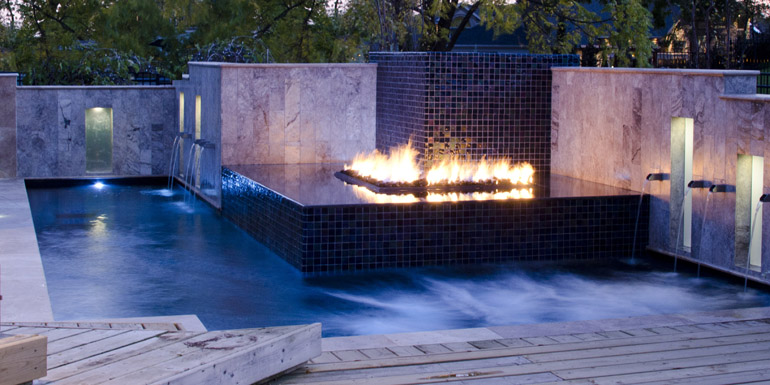 By Barry Justus
Builders of aquatic environments are often faced with designing projects and specific elements for small spaces. In these cases, consumer access to the Internet can often be a double-edged sword, as clients often want to include every conceivable option in this limited space. Thus, the job of the designer/builder is to pull in the reigns and offer a design solution that takes into account the client's personal taste, the home's architecture, the natural environment, safety and efficiency, while at the same time keeping the project on budget.
Small space design solutions take a creative approach and are sometimes more difficult to resolve than working with large spaces. Builders are often, but not always, limited by a relatively small budget, which must be overcome with design solutions.
Site accuracy a must
Since space is at a premium, builders need an accurate site survey. Surveys should be verified on site against the actual as-built construction. Up-to-date utility locates, zoning reviews, soil conditions and microclimates also need to be verified before the design is started.
Smaller spaces tend to be affected by microclimates; therefore, it is critical to track the sun's movement throughout the space at different times of the day and different months of the year. For instance, a neighbour's tree, trellis or house may block or disrupt the sun greatly. Shade, temperature and wind also become an important issue in these designs.
Taking these factors into account, there are some general design techniques such as multiple-use areas, elevations, use of colour theory, extended living spaces and planting techniques that can be used in a limited space environment. Every component of a small yard can serve dual or multiple purposes, for example:
retaining walls can double as benches;
raised bond beams can hide equipment pads;
bunkers can be used as decks;
pools, spas and water features can be designed as one unit;
planting beds can serve as run-off containers;
cabanas can serve as privacy screens; and
fireplaces can act as a screen or bench.
Walls, ledges and raised bond beams
Retaining walls, spa walls and fireplace ledges can be designed to serve double duty by building them 0.45 to 0.5 m (18 to 20 in.) high to act as a permanent bench, saving the need for extra chairs.
Another creative use of space is to hide the equipment pad behind a raised bond beam in the pool wall (may be subject to the jurisdiction's zoning and electrical codes). By installing the pool equipment behind a solid barrier, it can free up space in the cabana, while also limiting the amount of noise on the pool patio.
Bunker benefits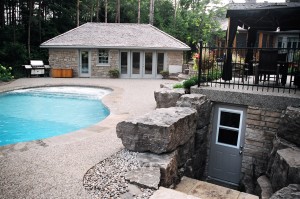 The most effective use of small space is to locate equipment in an underground bunker that can be accessed via stairs or access cover. This design solution allows the area above the equipment vault to serve as a pool deck, or possibly even part of the actual pool or water feature.
Underground bunkers are also safe, energy efficient and quiet. Bunkers and equipment vaults may require additional permits and engineering and safety precautions for confined space areas.