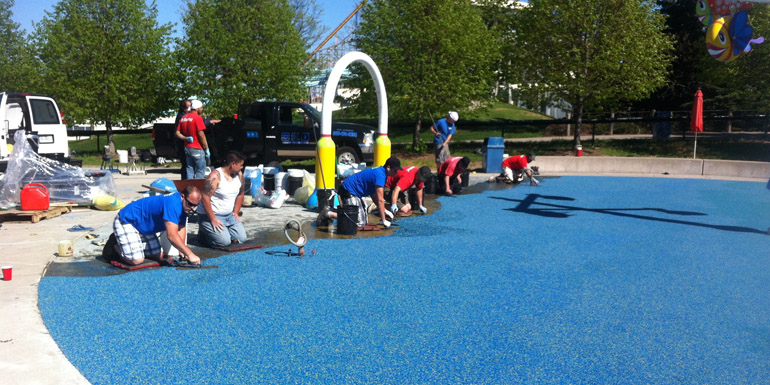 By Barry Meakings
Ontario is an extraordinary place; not only is it Canada's most populated province—accounting for almost 40 per cent of all Canadian residents—these population figures swell with visitors every season largely in part to the amazing diversity of weather. When temperatures start to rise, crowds are drawn to the province's many municipal and independent leisure attractions, many of which now include rubber safety surfacing on their splash pad features or surrounding their pools. Some of these attractions include, for example, the Toronto Zoo's Splash Island; Wild Water Kingdom in Brampton; African Lion Safari in Hamilton; and Fallsview Indoor Waterpark in Niagara Falls. Now, Splash Island at Canada's Wonderland in Vaughan can be included on this list.
Earlier this summer, Banner Lane Surfacing in Aurora, Ont., which specializes in rubber safety surfacing installations, was awarded the contract to resurface the spray ground at this popular amusement park. However, what made this installation different than most others was the challenge they were presented of completing the project in only one day.
Time for a makeover
Eleven years after Canada's Wonderland opened its doors in 1981, the park expanded to include an 8.1-ha (20-acre) waterpark called Splash Works. This wet zone was home to 16 waterslides and Whitewater Bay—the largest outdoor wave pool in Canada at the time. As the park's popularity increased, so did the number of attractions. In 2002, the waterpark opened Splash Island, a 325-m2 (3,500-sf) spray ground located at the base of one of the park's several traditional wooden roller coasters.
According to Elliott Sheaves, Banner Lane's general manager, the spray ground was originally designed with kids in mind and, therefore, needed a resilient surface that was not only durable, but also safe and visually appealing. Rubber surfacing is ideal for all of these concerns as its unique ability to expand and contract in freeze/thaw conditions prevents it from failing under extreme conditions. Further, its ability to move with its substrate and absorb impact pressure from the surface without showing any impressions will allow for tens of thousands of children to run and play on it for hours at a time without the need to worry about the surface wearing down.
"With the number of kids that will be running on the surface, safety was a major priority for the park's developers," says Sheaves. "Even when wet, rubber surfacing provides a slip-resistant surface, which minimizes the amount of slip-fall incidents at the park. Further, rubber is a soft material, which provides a comfortable surface for patrons to enjoy. When compared to traditional concrete splash pad surfaces, the benefit in terms of comfort is substantial."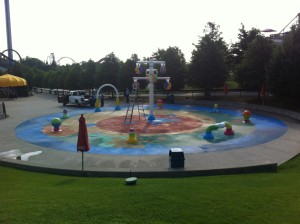 Colour selection also played an important role in the park's decision to use rubberized safety surfacing as Splash Works houses numerous attractions that cover all ends of the colour spectrum.
"Considering the size of the splash pad, the client was very specific in the finished look they were hoping to obtain through their choice of colour," added Sheaves. "Fortunately, rubber surfacing is available in every colour of the rainbow."
The original splash pad surface was a multi-coloured series of rings. Its bright tones allowed designers to be creative and construct a surface that reflected the themes of the park. It was not until nearly a decade after its initial installation that the surfacing required a facelift.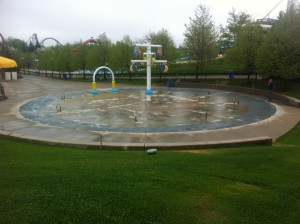 A short time after taking on the project, Banner Lane decided that, to ensure a proper bond, the previous material would need to be removed and the new rubber surfacing applied directly to the concrete sub-surface. After consulting on colour, park officials decided on a blend of blue and yellow rubber granules to complement the adjacent waterslides.
"The addition of a second colour is important for creating a textured, esthetically pleasing finish," added Sheaves. "Installing a solid colour rubber surface has a tendency to appear matted. The ability to be creative is one of the greatest features of rubber surfacing."