In and out
The installation took only one day, but required the careful co-ordination of a 10-person crew. The first few batches of wet rubber hit the concrete at approximately 7 a.m., with the crew working hard until early evening.
"As a group, the installers moved slowly across the diameter of the splash pad 930 cm2 (1 sf) at a time, carefully blending each fresh batch into the previous one," explained Sheaves. "As the sun was setting, the crew had just completed the new rubberized surface."
Although the project was completed in one day, the project still presented several key challenges that tested the installation team's communication and timing. For instance, to ensure the surface was applied in the appropriate thickness across the entire splash pad, a constant dialogue was required amongst all crew members as well as the need to regularly inspect one another's work.
Failure to perform routine quality control checks can result in potentially devastating repercussions. For example, areas that are improperly trowelled can expand and create larger, more problematic concerns—similar to a small crack in a windshield, which branches out to cause a bigger problem. Ensuring all team members are communicating is an essential aspect of every rubber surfacing installation.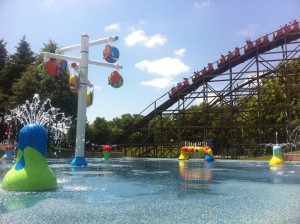 "Overall, the client was incredibly happy with the finished product, and almost immediately made plans to install several more rubberized surfaces in a neighbouring attraction called the Pump House," says Sheaves.
These areas will be used as landing strips for park goers when exiting small tunnels that snake through the various climbing equipment.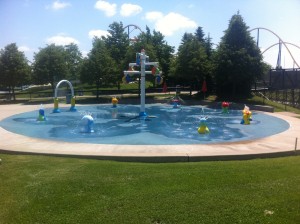 "Rubber surfacing is the right choice for these areas as they are constantly submerged in water and present the same concerns as the spray ground," adds Sheaves. "Further, by matching the colours of the rubber granules used on the spray ground, it will create a nice sense of continuity within the large park, while also helping to maintain consistency between the current and future rubber surfaces."
A breeze to keep clean
Another reason why park officials selected rubberized surfacing is because it is easy to keep clean and in pristine condition by following a simple maintenance program. Similar to the way one would care for indoor flooring, rubberized surfacing benefits from regular sweeping and periodic washing, using soap and a bristle broom, power washer, or another specialty cleaning product.
"With just a small investment of time, the surface will remain as beautiful as the day it was installed," explains Sheaves. "Should a repair become necessary due to, for example, sub-surface pipe or ductwork, the area concerned is simply cut out and new rubber is poured and trowelled to blend into the existing material."
Applications are endless
An increasing number of homeowners and businesses alike are realizing the importance of providing and maintaining a safe underfoot surface for wet-deck areas. There is unquestionably a need for fun, colourful surfaces on splash pads, but they also need to be truly porous, comfortable, and non-slip.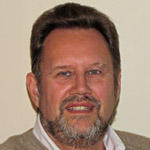 Barry Meakings is CEO of Rubaroc International Inc., a Canadian and U.S.-based developer and installer of rubberized safety surfacing. He has more than 30 years of experience in commercial and residential poured-in-place rubber safety surfacing throughout North America. He can be reached via e-mail at barrym@rubaroc.com.