By Jason Cramp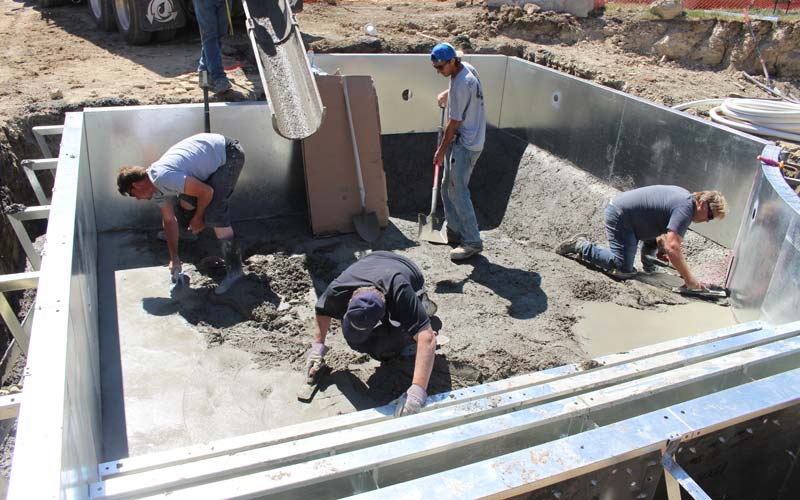 Despite the Canadian pool industry's solid year in 2016, the number of building permits issued in 2017 declined slightly. However, this was not immediately apparent thanks, in part, to the pent up demand for pools that occurred during the summer of 2016, which was one of the warmest and driest on record for many parts of the country. Another factor was the strong growth of the economy, which allowed consumer confidence to rise steadily. In fact, this index increased by nine points in February 2017—the largest monthly increase since March 2015 and, at the time, it was sitting at its highest level in more than seven years. As a result, homeowners were ready to spruce up their outdoor living space. However, with consumers ready to spend their money, the weather rained on the pool industry's parade.
Where did the summer go?
In terms of the weather, Canadians endured one extreme to the next when comparing the 2016 and 2017 spring/summer seasons. To put this in perspective, the city with the warmest average daily temperature between June and July last year was Regina at 26.45 C (79.61 F). Even the temperature averages in major cities such as Vancouver (21.25 C [70.25 F]), Edmonton (22.7 C [72.86 F]), Winnipeg (24.4 C [75.92 F]), Toronto (24.85 C [76.73 F]), Montreal (24.45 C [76.01 F]), and Halifax (22.35 C [72.23 F]) were polar opposites from the year before.
While it was dry and hot in the west, it was cool and wet for most of central and Atlantic Canada. Initially, last year's unfavourable weather did not seem to factor in on a homeowner's decision to invest in a backyard pool, as interest likely spilled over from the 2016 season thanks to the relentless heat. In fact, 335 more permits were issued in the first quarter, representing a 39.5 per cent year-over-year increase. However, this industry and the consumers who enjoy its products can only endure so much rain. Unlike the previous season, when permit registrations increased (year-over-year) throughout each quarter, the 2017 season saw them fall by eight, 11 and 27 per cent, respectively. Permit registrations in census metropolitan areas (CMAs) fell by 6.5 per cent, representing 615 less permits than the year prior. Despite these decreases, many builders remained hard at work and persevered.
"Although the weather was terrible last spring, we had some carry-over projects from fall 2016, which kept us busy until the weather changed mid-summer," says Frank Blanchet of Betz Pools Ltd., in Stouffville, Ont. "This led to us having a good summer/fall."
According to Dan Thurtell of Solda Pools Ltd., in Brampton, Ont., last year did not come and go without its challenges and opportunities, as the wet start to the construction season meant conditions were not ideal.
"Late summer, however, which usually sees a plateau in activity, continued to be highly active," he added. "This continued into the fall, which compensated for the wet spring. As a result, the fall push made up for the lost time at the start of the season and allowed us to finish the year with strong numbers in sales and completed projects."