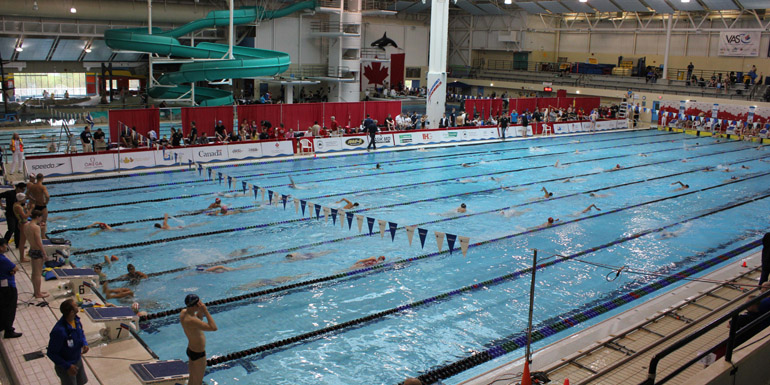 A new strategy by Swimming Canada will see funds and increased support for programs to develop successful international athletes at four of its five national high performance centres.
Over the past six months Canada's national governing body of swimming, led by its high performance director John Atkinson, reviewed the organization's national swim centres, programs, and overall high-performance strategy.
A five-person committee made up of senior technical staff and a representative of Own the Podium reviewed and scored each centre. Based on their ability to develop successful Canadian swimmers on the international stage, the review highlighted the centres in Victoria, Vancouver, and Toronto as funding priorities, and investment will continue.
The current model of funding and structure at the national swim centre in Montreal will be temporarily suspended March 31. It will undergo a more detailed review of its operations, including a restructure of the overall strategy for the region prior to potential re-investment. Calgary's national swim centre, however, will no longer be funded by Swimming Canada beyond March 31.
"The objective of these high performance entities was to provide an environment aimed at developing identified swimmers to their potential. This process evaluated the impact each of the five centres could have on the success of Canadian swimmers as we build towards the 2016 and 2020 Olympics," said Atkinson. "By refocusing our operations at four centres we will be able to dedicate more resources directly to national teams and programming for athletes."
Each centre was asked to submit documentation during the process, which reviewed current and past performance of centre athletes, as well as future capacity. Support structures and connections with other entities such as provincial programs and clubs were also taken into consideration.
The centres where funding will continue will be named Swimming Canada High Performance Centres and operate under a refreshed set of operational standards and accountabilities. The new plan will begin to take effect April 1, 2014.
"Swimming Canada's Vision 2020 strategic plan aims to grow Canada into a world-leading swimming nation. By undertaking such a sweeping evaluation of our high-performance programs we are making a strong step in that direction," added Swimming Canada's CEO Ahmed El-Awadi. "This new direction will allow us to focus more of our resources directly on our top athletes and medal hopefuls for the 2016 Olympics in Rio de Janeiro and the 2020 Olympics in Tokyo."
As part of this decision, Swimming Canada will work with all impacted federally carded athletes in order to ensure their preparation for the 2016 Olympic Games is not compromised.