By Joel Seibert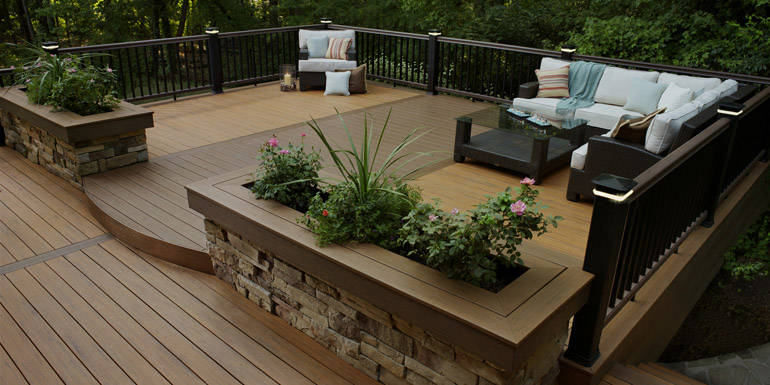 Over the past 20 years, composite and plastic composite decking products have increased their share of the Canadian decking market versus traditional building materials (i.e. wood), and for good reason. With warranties against colour fade, and manufacturer defects often exceeding 20 years, claims of extreme durability, splinter-free finishes, hidden fastener systems, and essentially a maintenance-free deck upon completion, why would one choose any other product for their deck other than composite?
Perhaps the biggest contributing factor to composite decking's increased popularity is its heavily advertised 'green' aspects. However, one must keep in mind there are many different interpretations of 'green' building products. Composite companies make various claims that their products use recycled components or low toxicity binding agents, and/or are shipped on trains to reduce the amount of fuel burned in getting product to distributors, while at the same time using shipping containers that use more recycled product than any other. All products, when viewed in the right light, will show some aspect of environmental compassion. That said, this article will outline the industry definition of green building products, as well as provide a brief overview of the Leadership in Energy and Environmental Design (LEED) program.
It will also detail the makeup of composite/plastic composite decking, outline some of the key manufacturing processes of composite and wood decking, which contribute to their 'green' aspects, and provide some pros and cons with respect to composite versus natural wood building materials to provide readers with some direction to draw their own conclusions on 'green' decking products.
What is green building?
Green building (also known as green construction or sustainable building) refers to a structure and using process that is environmentally responsible and resource efficient throughout a building's lifecycle—from design, construction, operation, maintenance, and renovation to demolition.
A little about LEED
Leadership in Energy and Environmental Design (LEED®) is intended to provide building owners and operators a concise framework for identifying and implementing practical and measureable green building design, construction, operations, and maintenance practices.
Developed by the United States Green Building Council (USGBC), LEED comprises a suite of rating systems for the design, construction, and operation of high performance green buildings, homes, and neighbourhoods. Its certification system deals with the environmental performance of a building based on the overall characteristics of the project. Credits are not awarded based on the use of particular products, but rather upon meeting the standards in their rating systems.
LEED is an international mark of excellence, which lets the end user know the manufacturer/producer/builder of said product(s), has met certain predefined environmental and sustainability benchmarks. The program does not certify, endorse, or promote any products, services, or companies. Rating systems generally have 100 base points plus six 'Innovation in Design' points and four 'Regional Priority' points, for a total of 110 (LEED for homes is based on a 125-point scale, plus 11 'Innovation in Design' points). Each credit is allocated points based on the environmental impacts and human benefits of the building-related impacts it addresses.
End users of green building products with LEED certification can expect lower operating costs of their projects, the products have been produced efficiently, and/or contribute to the efficient operation of the overall project, and many will qualify for money-saving incentives such as tax rebates and zoning allowances.