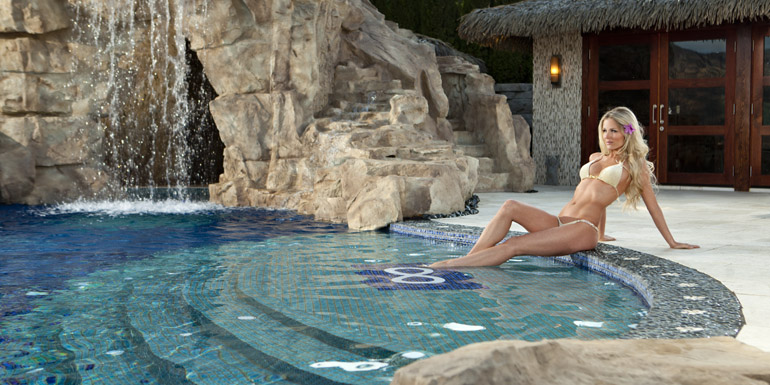 By Tim Valerioti
The design is complete; all that remains is for the pool builder to simply follow the plan and everything will be perfect. Most builders will attest, however, that this is far from reality. In fact, once a design is complete, it is often the next day when things start to change. Therefore, the key to success for any project is the builder's ability to work through these changes and still be able to produce a quality project.
Before construction can start, the first step is putting a project plan together. On the Monique project for instance, two people spent a week going through every aspect of the job in putting a work schedule together. Although the schedule would only be a best case scenario, it was crucial in establishing benchmarks and goals for everyone to target. This process was also a good vetting of the design as it helped to show what elements would work and which needed to be reconsidered.
In creating this schedule, the primary deliverables (e.g. pool, water falls, lighting, retaining walls, etc.) were looked at first. Each element was broken down to figure out the necessary steps involved to meet the project's requirements. Once the schedule was completed, it was determined that a seven- to-eight month timeline would be required to finish the project.
First things first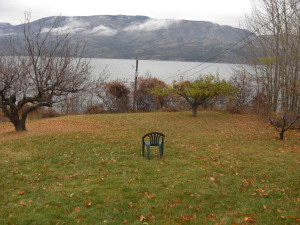 Even with the design and project plan in place, the project could not be started. First, permits had to be acquired from the city and an environmental assessment had to be performed.
From road access and storage to construction and safety permits, each had to be in place and signed off by the appropriate governing body before moving forward. During this stage, a team was put together to work with in-house staff, as this was a large project and additional resources and sub-contractors were needed to assist with the installation. Further, a number of the construction elements outside of the pool also needed to be tendered to confirm necessary resources and cash requirements.
Next, a site superintendent was put in place and project sites were selected for various work stations (e.g. offices, staging areas, first aid, traffic control, etc.). Throughout this preparation process, customer meetings were also held to keep the homeowner informed with what was going on and why the project had not started. Indeed, a customer wants everything to start immediately after signing off on the design and budget; however, this rarely happens.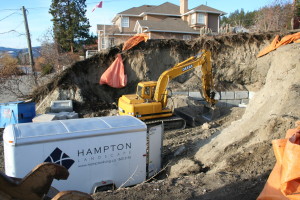 Large-scale pool projects can be likened to a machine that needs to get rolling but takes time for all of the wheels to be in motion. For instance, in addition to obtaining permits and completing the necessary assessments, various other construction issues had to be dealt with before breaking ground. This included dealing with concerns from neighbours regarding construction procedures, road issues relating to city restrictions and the weight of heavy equipment as well as weather-related problems due to the project's February start date.
Over a four-week period, several hurdles were jumped before getting to the point where heavy equipment could be brought in to start excavation.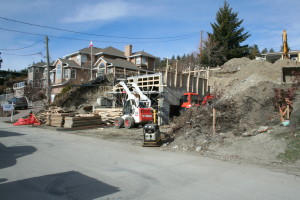 Strangely enough, one of the most challenging aspects of the Monique project had nothing to do with the swimming pool. This was because an underground garage, for the homeowners' camper and car, had to be built first. What made this challenging was the fact it had to be built 6.1 m (20 ft) below where the pool and deck would be installed, and the fact it involved excavating into a hillside while making sure not to compromise the neighbour's property.
The excavation went well until the last 1.8 m (6 ft) of the dig, which comprised sand. This resulted in unstable dirt walls caving in on the excavation. As a result, the walls needed to be immediately stabilized with temporary concrete blocks to keep everything in place while the garage's concrete walls were being formed. Two months later, the garage was complete and a number of large retaining walls were installed, which would eventually support the swimming pool and entertainment area above.