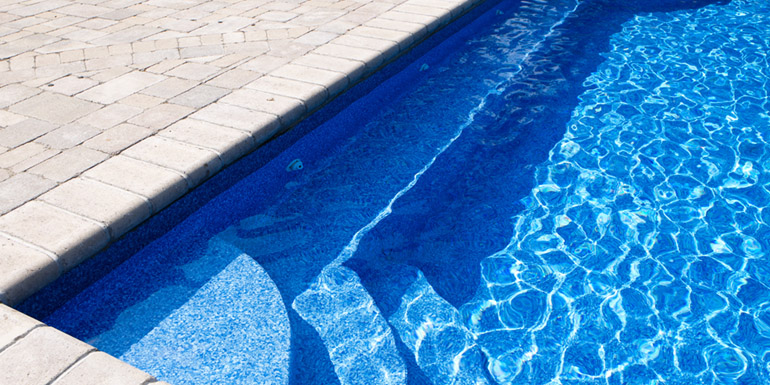 By J. Kevin Shea
The increasing number of awards handed out for innovative and unique vinyl-lined pool designs has made it apparent that builders can do almost anything when constructing these pools. Builders and renovators are no longer limited to plastic drop in steps or standardized square step sections. Today, homeowners are looking to include various specialty features on their pools—from sun decks/ledges to customized steps that stretch the entire width of the pool. Water features such as grottos with sitting areas and fountains are also becoming standard fare in current vinyl-liner pool designs.
Getting the vinyl liner to fit perfectly over these speciality features may be intimidating for those new to the process; however, the following measuring and installation tips and tricks can help builders overcome the fear of adding these specialty features to their next vinyl liner pool creation.
Let's start with measuring
Providing 'spot on' measurements to the liner fabricator is imperative to ensuring a perfect fit on vinyl-lined pools that include one or more of these speciality features. Steve Keller at Poolside Pools in St. Paul, Minn., says he never provides measurements to his liner fabricator until after he has completely built or renovated the pool.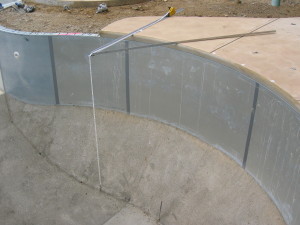 "I always take complete A-B (plotted) measurements of the pool," explains Keller, who also uses a digital camera when recording the pool's dimensions. "I take photos from all the angles of the measurements I record around specialty features, so the fabricator has a clear understanding of what I am dealing with."
Pool liner fabricators also highly recommend builders leave their plotting points marked for reference. Leaving these reference points until the liner installation process is complete can save valuable time for pool builders should a measurement need to be confirmed.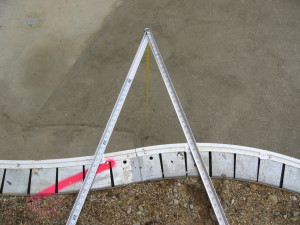 For instance, Keller uses painter's tape to label each of his plotting points in a semi-permanent manner. If necessary, this allows him to go back and verify a measurement without having to restart the plotting process.
Norm Lee of Dr. Vinyl Company in Bolton, Ont., agrees.
"We use the A-B plotting method when measuring and take numerous photos, especially when we are dealing with specialty features," says Lee. "And, we always leave the pins in the ground until after the liner has been successfully installed, just in case there are any questions about our measurements."
Calculating depth, radius and corners
To simplify the procedure of taking both vertical and horizontal measurements simultaneously, Keller uses a device referred to as the A-B measuring tool, which comprises two angled pieces of aluminum bolted together by a hinge. Self-adhesive tape measures are located on top so the installer can read two measurements simultaneously. A plumb bob is also attached to a tape measure so a depth can be measured, out from the wall, at the same time. These measurements are taken from two points, which are already numbered during the A-B point measuring process. This tool is extremely useful when taking dimensions of a stair/bench combination along a sloping wall, or a cuddle cove/seat in the deep end of a pool, for example. Some liner fabricators offer variations of this device to builders to ensure they obtain and provide proper depth measurements.
Another way to ensure measurements are precise is to provide templates of tricky areas. Closed-cell foam, cardboard or plastic materials work well when creating a template of a particularly challenging area.
"We provide more reference points than the liner fabricator requires and I always check my measurements several times," explains Ken Corallo of Seahorse Pools in Fort Worth, Texas. "However, if I am still concerned, I create a template of the complex section of the pool. These are especially helpful when dealing with complicated curves with multiple steps and corners."
When necessary, Lee also provides templates to the liner fabricator for especially complicated steps and seat areas—such as those in concrete pool renovations, where the old concrete pool is being covered with a vinyl liner.
"We use filter cloth to create a template and provide all the pieces to the liner fabricator to use in cutting and welding the liner together."
When designing and building a new vinyl-lined pool, builders should avoid tight radius steps—especially on the top step. If the step radius is too tight, 'puckers' will form on the top tread where the liner meets the riser, as liner fabricators use straight bars to weld the vinyl. Therefore, it is important to keep the steps as wide as possible using a large, sweeping radius.
Further, never 'cheat' or undersize the measurements in hopes the liner will stretch into place. Liner fabricators are very sophisticated in their design and manufacturing process, so exact measurements are required.
Fabricators will, however, make allowances for the climate, depending on where and when the liner is being installed. For example, the fabricator will need to know if the liner is being installed in 10- to 15.5-C (50- to 60-F) or 32- to 37-C (90- to 100-F) weather, as hot and cold temperatures will affect the liner's flexibility and its overall fit.
Using this information, in designing and manufacturing the liner, the fabricator will size it accordingly, taking into consideration not only the geographic location of the pool and the time of year it is being installed, but also the specific ink colours, base film colour of the liner and its mil thickness.
With this in mind, when ordering liners late in the season, it is important to notify the fabricator when the liners will be installed, as this will need to be considered when they are being manufactured.