By Brent Gwatney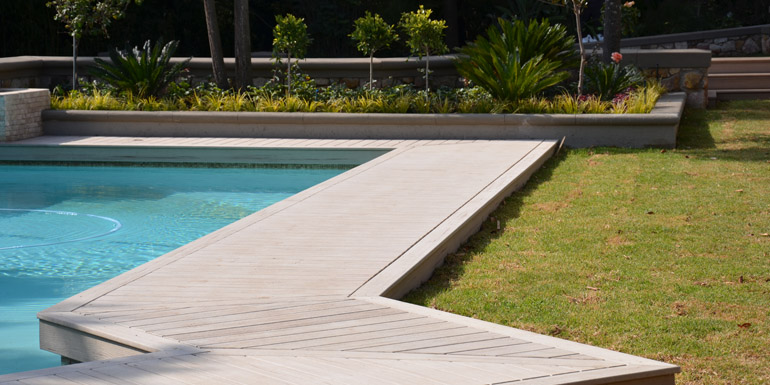 As pool and spa professionals know, in some cases, homeowners spend more time beside the water than in it, which means a top-notch surround provides an ideal way to enhance customer satisfaction and gain referrals. With a bit of inspiration, installers can create a poolside deck or hot tub surround that will not only thrill customers, but also have their friends and neighbours ask who the contractor was. The following are seven building tips to add life to pool and spa surrounds using composite decking.
1. Get edgy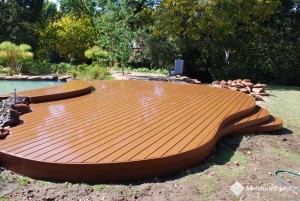 To create deck edges with a clean, finished look, install boards along the edge that run perpendicular to the planks which make up the rest of the decked surface. Unlike trim pieces that drop below the deck's surface, edge boards are part of the usable space, and clearly define the deck's boundaries.
An edge board is especially important on the poolside of a deck as it provides a smooth, consistent surface for bathers to rest against or to grip when climbing out of the pool, compared to being faced with the narrow ends of numerous planks (deck boards).
Edge boards also make a great accent wherever a deck is adjacent to a building or fence. Similar to mouldings along the walls and ceilings of houses, edge boards used in this way offer a clean visual transition between horizontal and vertical surfaces.
2. Throw them a curve
A kidney shape or other uniquely designed pool provides a perfect opportunity to create a one-of-a-kind deck that showcases creativity and craftsmanship. The deck edges can mimic the pool's shape for visual interest, or can even include free-flowing curves that create a playful, eye-catching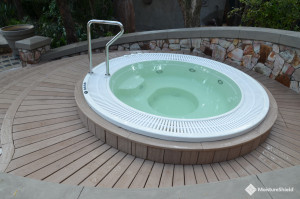 space to hang out by the pool.
Forming curved surrounds is straightforward with concrete patios, as thin form boards bend easily and can be readily staked to shape. Nevertheless, curved decks built with decking planks tend to capture greater attention than curved concrete surrounds as they are more unexpected.
Further, composite deck boards are much easier to shape into curves than traditional wood decking. When bending composites, though, the manufacturer's specific guidelines should be followed. Keep in mind, these instructions can vary by brand and can also impact the warranty.