By Carla Sovernigo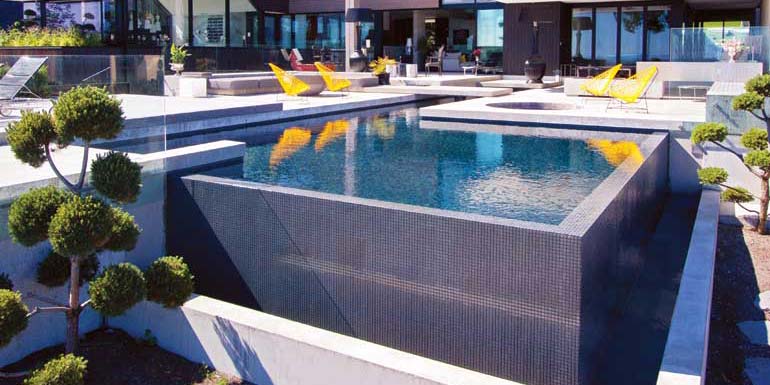 The allure of the swimming pool has passed through time undiluted. From the grand bathhouses in Rome and Greece to today's sleek, sophisticated designs, pools transcend geography and demographics. Often a symbol of luxury, current popular designs and features provide elegant living and effortless convenience. Modern-day pool owners want more than to bask in the shimmering reflection; they want to create an environment that is an extension of their home, a space where form and function are one with an overall design that supports their desire for more family time and a healthier lifestyle.
Pools were once considered an addition to the backyard. Today, however, designs are carefully incorporated into new construction as well as home remodelling. Homeowners are planning the pool to be an integrated and central component of their home's function and design. That said, the following are some of the most popular trends the industry is seeing, which are sure to continue into the 2016 design/build season.
Water in transit
Water in transit is certainly one of the most popular trends in pool design. It appeals to several senses, including sight, by using clean geometric lines, and sound, by offering the tranquil and soothing acoustics of moving water. Often achieved in pools with an infinity or knife-edge, the sophisticated lines of water in transit make this design element a favourite amongst many homeowners.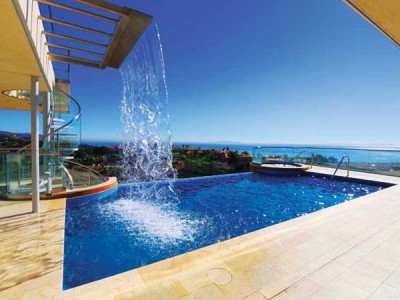 Diving into this trend a little deeper
The infinity pool design (also referred to as a vanishing-edge or perimeter-overflow pool) made its first appearance decades ago in luxury homes that afforded huge panoramas. Today, this design has been fine-tuned to allow it to be used on pools in much smaller spaces. When the water surface visually blends into the horizon, the result is a breathtaking design, causing the eye to roam, thus making a small space seem much larger.
Infinity pool design is often used when the property's elevation does not provide the space required for a traditional installation. The result can often be two-fold in that the stunning views offered by the infinity edge also provide an exciting, unexpected element as the water flowing over the pool edge creates a calming, beautiful waterfall.
Finally, knife-edge pools are probably one of the most complicated when it comes to design and construction techniques. What makes it so unique is that there is virtually no edge material or coping around the pool's perimeter. Water simply disappears into a slim slot opening, which contributes to these pools' seamless-mirror effect.
Custom designed and incorporated water features, such as fountains, waterfalls, rain walls, and deck jets are also considered water-in-transit features. Nothing enhances an outdoor space like the soothing sound and shimmering sight of falling water. Today's designers are finding it easier and more affordable than ever to include spectacular water features in pool designs that give a homeowner the ability to transform the atmosphere around their pool from a fun family waterpark to a romantic oasis. These features also provide the homeowner with a lot of flexibility, allowing them to customize their outdoor space to suit a variety of moods all with the push of a button.