By Jason Cramp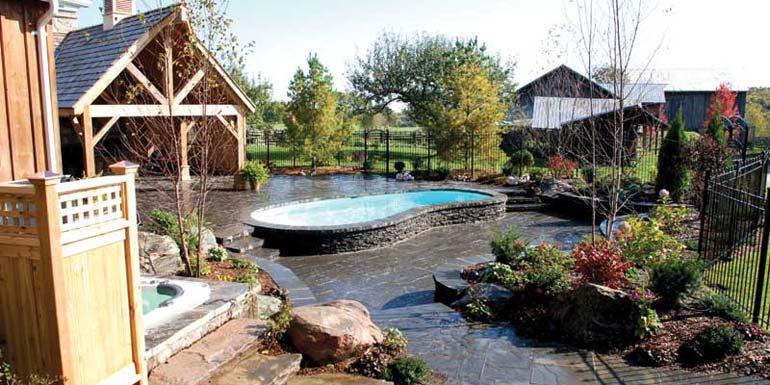 When it came to overhauling this country retreat in Hockley Valley, Ont., Tumber & Associates Ltd., was faced with a rural, largely undisturbed backyard, and a client wish list that included a 
pool along with a cabana that was big enough to accommodate large gatherings for entertaining.
Based on these requests, a design was developed that would not only incorporate these features into the existing property, but also maintain the hilltop backyard's spectacular views and open vistas.
The focal point of the backyard is a 3.6- x 7.3-m (12- x 24-ft) fibreglass pool with custom swim jets and a sun shelf which allows for shallow water lounging. Warm-toned concrete decking material was used to complete the 457-mm 
(18-in.) high poolside walls and expansive flagstone area, which extends throughout the yard to create co-ordinated space.
Tucked neatly alongside the home is a portable hot tub with privacy screening, while the multi-level terrace provides space for a full dining area, complete with storage rooms and an outdoor washroom. The large, custom, post-and-beam cabana, built to mimic the style and materials of a century-old barn, houses a wood-burning natural stone fireplace and large sitting area.
To make the space feel as natural and organic as possible, a number of materials found on-site were used in the design, including much of the natural granite fieldstone used to build the fireplace and portable hot tub shell. Larger boulders were recovered from farmland areas on the property and used as accent pieces throughout the landscaping.
To create privacy, mature spruce trees (some 4.5 m [15 ft] in size) along with other foliage and a custom-made wrought-iron fence, which surrounds the entire pool area, were also installed.