By Karen Rigsby and Zach Hansen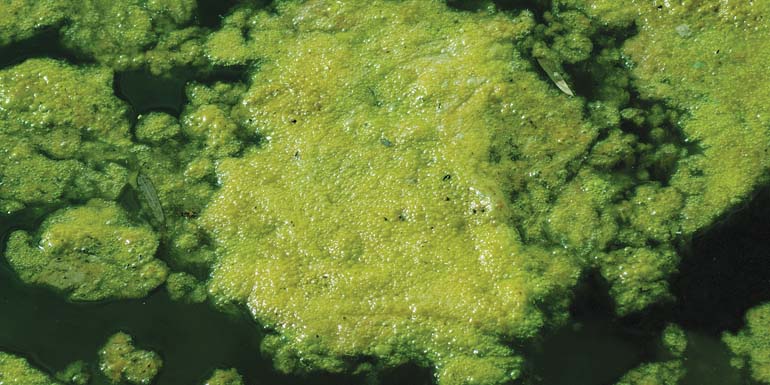 Algae are microscopic aquatic plant-like organisms. They do not have the same structure as higher plants such as roots, stems and leaves. However, they are like any other plant in that they require the same type of nutrients to grow and utilize sunlight to carry out photosynthesis. In swimming pools, algae can be quite a nuisance; however, they are actually the most important photosynthesizing organisms on earth. They capture more of the sun's energy and produce more oxygen (a by-product of photosynthesis) than all other plants combined. In addition, many species of animals depend on algae as a food source.
Algae size can vary greatly and they can grow in a number of different habitats. It can endure a wide range of temperatures and has been found growing everywhere from hot springs to deep within polar ice. Microscopic algae, called phytoplankton, are typically found in lakes and oceans. The largest forms of algae are seaweeds, which can grow up to 91.4 m (300 ft) and stretch from the bottom of the ocean to the surface of the water. Although most algae grow in water, they can also grow on soil, trees, under or inside porous rocks and even on some animals.
Types of algae in swimming pools
When it comes to swimming pools, algae can be a common problem that becomes a pool owner's nightmare. In order to prevent or treat algae successfully, one must understand the different types and characteristics of the algae they are treating.
Green algae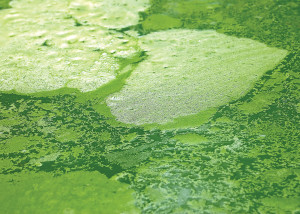 Green algae are the most common with more than 7,000 different species in existence. Approximately 10 per cent of these are marine species (found in the ocean) with the remainder being found in lakes, rivers, ponds and swimming pools.
Green algae are named for the chlorophyll (the molecule that captures light energy to carry out photosynthesis) in the cell, which gives them their green colour. It can be free-floating or surface clinging and can be found in all types of pools. They are typically the easiest to treat; however, some species may be more difficult to manage than others.
Mustard algae
Mustard algae have been described as 'adapted green algae.' Mustard algae also contain chlorophyll, but the green colour is masked by the presence of beta-carotene. Carotenoids (such as beta-carotene) are found in many photosynthetic organisms. These compounds are responsible for colour (like the orange colour of carrots) which is why mustard algae are yellow rather than green.
Carotenoids are anti-oxidants (or reducing agents). They protect against damage caused by oxidation. Mustard algae can use these compounds as a defence mechanism to help them survive in a chlorinated environment. As carotenoids protect against oxidation, chlorine (Cl) (as an oxidizer) may have little effect on algae once this defence mechanism has been activated within the cells.