Islands and bridges
Beyond flow characteristics, lazy river pools offer ancillary benefits and features that are worth considering during the swimming pool's early design stages. For example, these pools typically require islands, which in most cases means there will be at least one bridge leading from the 'mainland' to the island. These elements add huge measures of fun and enjoyment not found in more common pool configurations.
For starters, there is something fundamentally intriguing about an island. Even though it might only be a few feet away from the outside edge of pool, an island creates a different destination within the space. They are often the site of spas, lounging areas, and associated features such as waterfalls. Islands also conceal the view of portions of the river course, which adds a sense of mystery and can fuel a desire to take the journey along the river or over to the island to see what is on the other side, or just around the bend.
Lushly planted islands with rock structures, grottos or fire features can create beautiful focal points and even reflections when the water is still. They always invite visitors to cross the water to experience the environment waiting on the other side.
Bridges used to access islands offer a similar set of benefits. Although they may only span a few short feet, they represent a small journey where the visitor transitions from one place to the next. After crossing, there is an immediate sense of being in a completely separate area, perhaps a private place or one designed for small intimate gatherings.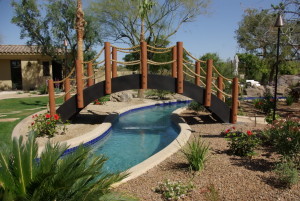 From the point of view of the person floating in the river, bridges provide an added level of interest as they pass beneath them, generating a sense of movement from part of the course into another. In many designs, bridges are convenient places to locate sheeting waterfalls that douse bathers, adding even more anticipation and reward as they float downstream.
(On a practical note, it is always important to observe local building codes for the bridge height. This prevents anyone floating on an inner tube or raft from hitting their head.)
From a design standpoint, bridges offer several opportunities to create architectural structures that in of themselves become works of art. In many cases, both builders and homeowners say the bridges and/or islands become their favorite feature in the entire scene.
Great experience
Ultimately, whether they are exercise pools, lazy rivers, or more standard pools fitted with a current-generating system, the goal is to create an experience for the client. Therefore, maximizing the value of current systems and the pools that contain them is naturally going to vary from project to project. Builders need to plan accordingly and always base the project on the all-important client profile. The fact is moving water is healthy and fun. And, ultimately, this is what the aquatic experience is all about.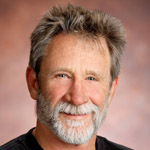 Peter Davidson is CEO of Current Systems Inc., a manufacturer of high-volume, low-pressure current flow pumping systems. He has been in the aquatics industry for more than 40 years and his first patents for related pumping equipment date back to the late '80s. He can be reached via e-mail at pdavidson@current-systems.com.