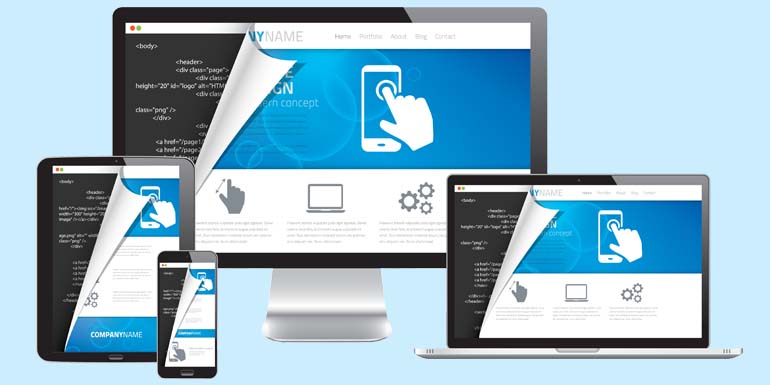 By Aimee Duffy
In today's fast-paced world, where mobile technology is becoming the new standard, there has never been a greater need to deliver a convenient user experience on the Internet. According to measurement firm comScore, nearly half of the Canadian population accesses the Internet via mobile device (e.g. smartphones and tablets) as opposed to personal computers.
This means consumers are looking for pool and spa retailers and services online and, most likely, on their mobile device. Therefore, it is important to have a website that works equally well on every device and this can be accomplished with responsive web design.
What is a responsive website?
Responsive website design remains one of the hottest trends for the web as it streamlines the development process for desktop and mobile website design, ensuring consistent content across all device sizes. In essence, the website is built once and it works seamlessly on any screen. For example, if the user is viewing the site on a tablet, the page will 'shrink/stack' to function effectively and remain easy-to-read. The same goes for smartphone users. But no matter which device the visitor chooses to use, they never have to resize, pan, or scroll to interact with the site, allowing businesses to deliver the exact user experience they want their visitors to have.
Building a responsive website also eliminates extra effort and money that would need to be invested to build a separate site for mobile users. Responsive websites are built using a grid-like system; it is not a framework or boilerplate design.
Building a new website?
Business owners in the pool, spa/hot tub, or landscaping industry need a website to capture new customers as it serves as a source of inspiration, resources, and eye-candy for those looking to install a pool or purchase a hot tub, patio furniture, or other backyard accessories. It does not matter if the business is small, with revenue coming from local buyers or large, with a full-blown digital strategy. If a company does not have a well-built, well-managed website, it is losing business to other companies that have these strategies in place.
Too many pool and spa/hot tub companies are losing market share for this very reason. The good news is, however, there are other ways to thrive online beyond having a website. If a business is embarking on a new website design, redesigning an existing site, or considering a mobile strategy, there is no reason not to take advantage of responsive website design. Here are seven reasons why:
1. Google recommends responsive website design
Google has announced it will be expanding its use of 'mobile-friendliness' websites as a ranking signal starting April 21. This change will go into effect across all languages, and Google says it will have a significant impact in its search results, whereby users will find it easier to get relevant, high-quality search results optimized for their devices.
Google started recommending the use of responsive website design in 2012 as it maintains a single URL (universal resource locator) for desktop and mobile content, which is much easier for users to interact with, share, and link to. Further, it helps Google discover content more efficiently because it does not have to crawl multiple pages to retrieve and index all of the website's content.
2. It is cost-effective
Without responsive design, it is typical that a web design company will build multiple versions of a website for each individual device. Responsive web design offers the benefit of requiring only one website. This means there will only be one version of the code and one management system to update the content, which saves time and money.
3. Older websites can be updated
Depending how a company's website was built (how it was coded), there are two options. Either a complete redesign of the site, which ensures the intended user experience, or sometimes the existing website design and layout can be updated and recoded to work responsively.
4. Lower bounce rates
An unresponsive website can lead to a high bounce rate (the amount of visitors that leave a website after visiting one page). Responsive design is proven to cut down on bounce rates because the screen displays the website the way it is intended to be viewed.