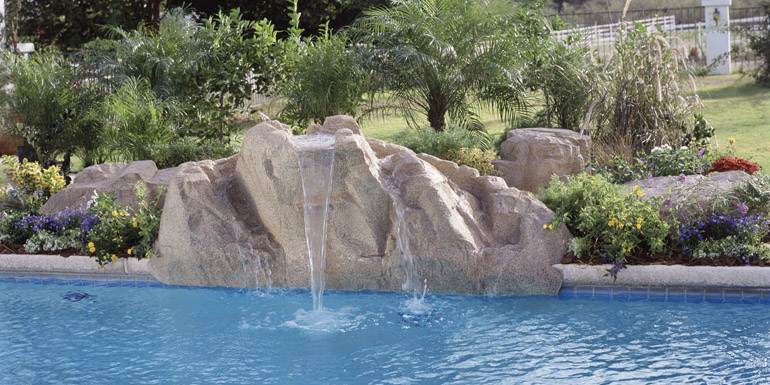 By Kathryn Varden
When a backyard includes a swimming pool, it is typically the focal point. However, what happens when the pool is a 'plain Jane' feature in the backyard? What should a homeowner do to spice up their outdoor living space and how can pool professionals help? One way to achieve this is by adding an artificial rock waterfall, jumping rock, or planter to the mix to elevate a simplistic backyard into an oasis-like retreat.
The use of artificial rock features, also called faux rock, is not a huge market because many pool dealers do not understand the concept of the product, how to install it, or sell it. On the other hand, those builders who do appreciate the product realize they can not only separate their business from the pack, but also earn additional profits on each pool sale by adding minimal time and/or labour to each project.
Artificial rock features can be added to new or existing pools and can be used on various pool types (e.g. fibreglass, vinyl liner, and gunite). In some cases, depending on the installation, they can be incorporated into above-ground pool projects as well.
Faux rock features are made in a variety of materials: fibreglass, concrete, glass fibre-reinforced concrete (GFRC), or a polyurea/foam combination. They also come in an assortment of shapes and sizes to fit any budget and/or backyard. In fact, these products can tie into other kit accessories to complete the entire pool.
Advantages over real rocks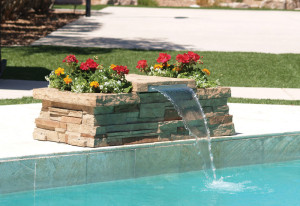 Faux rock features are easy to install because they are modular, durable, and are generally lightweight in design. Builders simply take them out of the box, plumb them, and set them in place. This gives installers peace of mind as they can be easily duplicated on every job they sell. The customer will also know what it looks like before they purchase one of these accessories (except if they chose a different colour).
For most artificial rock waterfalls, no extra deck support is required, which makes the product easy to use on renovation projects. Most faux rock accessories are made from moulds that are impressions of real rocks. Each mould is handcrafted to create a certain look and is designed to ensure the water flows in the right spot. For example, some waterfalls are designed for straight edges, while others fit different pool radii. After each waterfall is built, they are tested to ensure there are no leaks.
Selling faux rock waterfalls
When deciding on which waterfall style to present to the homeowner, pool builders should consider the different styles of rock first (e.g. natural rock formations, stacked stone, or fountain-like). It is important to find something that will complement the client's home and/or existing backyard environment.
These waterfall kits can then be sold to customers similar to a car package: base model, semi-loaded, or fully-loaded. For example, a base model installation could be a small waterfall, while a semi-loaded installation package would comprise a bigger waterfall with additional flanking landscape boulders. By adding extra landscape boulders to a package it can lengthen the waterfall along the pool edge. Finally, a fully-loaded installation could include a large waterfall, additional flanking landscape boulders, and a matching pool accessory (e.g. a jumping rock).
Profit summary
The profit earned per job can range between $500 and $3500 with minimal extra work involved. A builder who installs 20 of these accessories per year can add roughly $10,000 to $50,000 (or more) in profits without selling any additional pools.