By Bonnie Moore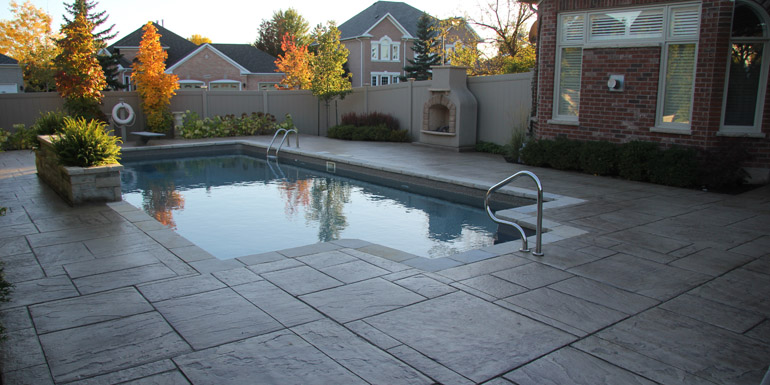 Concrete is one of the world's most durable products; it has been used to create various structures for hundreds of years. From engineers to bricklayers, a variety of concrete compounds have been used for various purposes and applications over time. In fact, concrete is used more often than any other building material as it is one of the most stable materials available.
Concrete offers interesting architectural versatility—from decks, bridges, and homes to skyscrapers—and has been applied in well-known structures such as the Hoover Dam, Panama Canal, and Roman Panthoen.
Today, the architectural/decorative concrete industry has grown to a $1.3 trillion per year business. In fact, in the swimming pool industry, architects and designers are being sought out by builders, landscape professionals, as well as homeowners to assist in bringing a backyard project to life with the use of coloured, stamped concrete.
Concrete is beautiful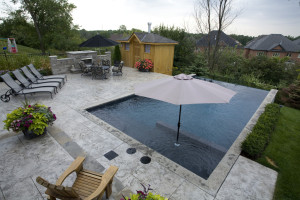 As society moves forward and becomes more environmentally conscious, concrete makes sense as a building material that is both eco-friendly and beautiful. Give an artist a brush, they will implement vision and create art, give a concrete professional an opportunity and watch the same creativity come to life. That said, a poured, imprinted, and coloured concrete swimming pool surround (deck) can help transform a customer's backyard into an outdoor oasis.
For instance, architectural/decorative concrete, which is the process of adding textures and colours via stamp, can transform a regular concrete swimming pool deck into a unique living space. Using this technique, many types of natural substances can be imitated, including stone, brick, slate, wood grain, granite, rock, and cobblestone. These authentic looking textures can bring a swimming pool project to life by adding flair with various design elements. Further, replicating—rather than using—natural resources can also reduce the homeowner's cost as naturally sourced materials (e.g. granite) can be costly.
Sustainable on its own, concrete offers a time-tested product, which increases in strength as time passes, which is what makes it a great building material and suitable for swimming pool surrounds.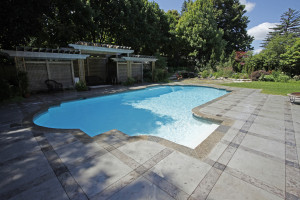 Based on a vision, the architect, swimming pool designer/builder, or homeowner, can create a swimming pool surround that is limited only by one's imagination. Every swimming pool installation is designed and engineered with the entire scope of work taken into consideration. Following the engineer's exact specifications will determine the success of the project. Concrete is not only durable, but can also be thickened for increased reinforcement and stability. When engineered correctly, concrete can meet the most demanding design criteria, such as placing pool cabanas, outdoor kitchens, or rock features on top of the pool deck. In doing so, installers must take all site aspects into consideration (e.g. grade, architectural surroundings, project shape, and the colour and pattern of the finished deck. If required, footings should also be installed where necessary. Footings are not always needed in pool deck installations; however, an installation specialist should be able to determine this. Homeowners should be rest assured their swimming pool surround has been properly installed, thus it will not settle due to land disturbances.
First and foremost, however, it is important for homeowners to understand concrete swimming pool surrounds cannot be installed properly during inclement weather as the curing process is essential to performance. A concrete swimming pool surround that is allowed to cure, strengthen, and set properly will last for years.