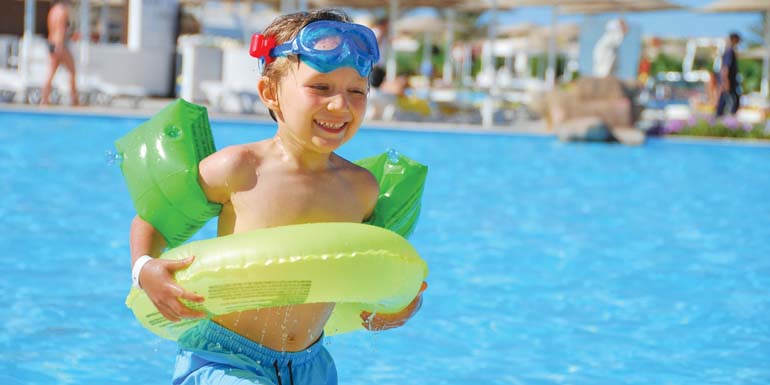 By Barry Meakings
Slip-fall accidents typically occur due to inadequate slip resistance between the foot or shoe and walking surface. Not only can these accidents result in a minor bruise, fractured arm or leg, or possibly a severe head injury, they happen quickly and without much warning. Water or ice, loose aggregate, slack or unfastened carpets, rugs or mats, or a sudden change in elevation is all that is needed to tip someone's balance.
One way the aquatic industry can reduce or even eliminate these types of accidents is by utilizing rubber safety surfacing. From pool decks, splash pads and spas to exercise rooms, cafeterias and washrooms, many walking surfaces have the potential to create a slip-fall hazard when wet, loose, uneven or damaged.
Slip-fall accidents and the cost to society
In North America, slip-fall accidents account for nearly half of all home injuries. They are amongst the primary causes of accidents in hotels, restaurants and public buildings and a recognized cause of injuries in aquatic areas; a significant reason for aquatic related lawsuits in both commercial and residential environments.
According to the Canadian Institute for Health Information's (CIHI's) 2011 National Trauma Registry (NTR) report, between 2008 and 2009, next to motor vehicle collisions (41 per cent), 38 per cent of all major injury hospitalizations were due to falls. Almost all (98 per cent) were unintentional in nature.
Legal responsibility for physical injuries is commonly placed on the occupier of the property where the accident took place. The occupier, however, may not necessarily be the actual owner of the property in question, merely a person in physical possession of the premises at that time (e.g. a tenant or another person having control of the activities being carried out on the property).
Additionally, a duty of care owed to the property users is placed on the people responsible for maintaining or repairing the premises. In the event of an accident, the injured person usually has the right to recover compensation for not only immediate physical suffering, medical bills and financial loss, but also potential future loss of income.
The financial cost resulting from slip-fall injuries in North America amounts to millions of dollars per day. To prevent these accidents from happening, it is important to identify and remove slip-fall hazards from daily life and the first place to start is the walking surface.
So, what's available?
Consumers today have almost unlimited access to information. While researching a solution, they may come across a number of products—from ceramic tiles to texture painted surfaces—claiming to be anti-slip, non-slip and/or slip-proof. While these surfaces are attractive and serviceable in dry conditions, users should beware, as they can become surprisingly slippery when wet. Aside from replacing the entire walking surface, poured-in-place rubber safety surfacing is a cost-effective option for increasing a floor's slip resistance.
Why rubber?
Rubber safety surfacing has been used in France and Germany for more than 75 years. During the 1930s, the surfacing was developed for the athletic market and was produced from rubber granules, liquid latex and cement. Its success led to the surfacing being used on subway trains, equestrian facilities, factories and even television studios in Moscow.
Today, rubber safety surfacing comprises a high-grade ethylene propylene diene monomer (EPDM) rubber granule that is mixed with a strong urethane binder, which allows the surfacing to remain flexible throughout its lifespan. Its soft and porous surface aids in preventing water from dangerously accumulating around the pool deck, while its slip-resistant and impact-absorbing features behave similar to a rubber bath mat when wet. Not only does it prevent slipping but, in most cases, it also reduces skin lacerations and broken bones should a tumble prove unavoidable.
Long life and added benefits
Should the sub-surface material shift or crack, the rubber surfacing, if installed correctly, will stretch and expand without delaminating from the sub surface, thus minimizing damage. This is also a great benefit for the Canadian climate due to the freeze-thaw factor. As rubber surfacing does not freeze, ice and snow also has a tendency to melt faster than on solid cement or stone surfaces. Additionally, snow can easily be removed with a snow shovel or snow blower without damaging the surface.
During the summer months, rubber safety surfacing resists heat absorption, unlike stone or cement, so it feels cool and comfortable underfoot. The specially developed resins also make the surface anti-fungal, anti-bacterial and ultraviolet (UV) resistant.