Variegated water clover
Zones: Five to 11.
Exposure: Partial shade.
Height: Grows along the surface of the water.
Planting depth: Should be submerged approximately 102 to 152 mm (4 to 6 in.) over the crown, allowing the leaves to float on the pond or bowl surface. This lovely four-leaf clover has mottled-green centred leaves with large, rounded lobes. This plant provides an excellent cover for fish, should this be what the owner wants.
Upright water clover (Marsilea quadrifolia)
Zones: Six to 10.
Exposure: Full sun to part shade.
Height: 152 to 305 mm (6 to 12 in.).
Planting depth: Moist soil and will tolerate a water depth of 51 to 102 mm (2 to 4 in.). This exquisite clover grows atop long reddish-brown stems that stand upright out of the water or damp soil. Native to Europe and northern Asia, Upright clover is also a creeping plant, providing excellent cover and garden density with its lush-green foliage.
Curly-leaf mint
Zones: Six to nine.
Exposure: Part shade.
Height: Up to 305 mm (12 in.).
Planting depth: Moist soil and submerged conditions up to 152 mm (6 in.). This mint, much like regular mint, is an extremely fragrant, ornamental marginal. These plants attract wonderful butterflies in the summer and the aromatic leaves can be used for seasoning. This is a pleasant marginal to have growing poolside or in a bowl on a patio.
Bog bean (Menyanthes trifoliate)
Zones: Three to eight.
Exposure: Full sun to part shade.
Height: Up to 305 mm (12 in.).
Planting depth: Moist soil and submerged conditions up to 203 mm (8 in.). This herbaceous perennial has three-palmate dark green leaves growing from the creeping stem, with short, erect racemes comprising 10 to 20 white fringe-edged flowers. These flowers are pink in bud, pinkish white when opening, and white in full bloom. One of the first marginal plants to flower, Bogbeans have been popular in North American water gardens for years.
Floating plants
These plants fulfil an important task in a NSP as they shade the water to keep it cooler, which is especially important in sunnier locations. They offer light and nutrient competition for algae and give living space to many water-cleaning organisms. Floating plants thrive well in mesotrophic waters, but also in oligotrophic environments if they are provided with enough nutrients, or nutrient-rich moist soil in their root area. In the case of water lilies, all species prefer mesotrophic/eutrophic water and substrata; they make no special demands on the water quality if it does not show extreme pH values. They grow in calcium-rich, poor aquatic environments as well. All water lilies need sunlight—six hours per day—to unfold their floral splendour. Only the pond roses can get by with little sun and thrive in the shade.
Floating plants are unique as they require no potting and, thus, no soil. They simply float on the pond's surface and remove excess nutrients in the water, keeping the rest of the pond clean and clear. The roots of floating plants provide excellent biological and mechanical filtration. These plants seem to have it all, while being relatively maintenance-free. The following are some examples:
Water hyacinth (Eichhornia crassipes)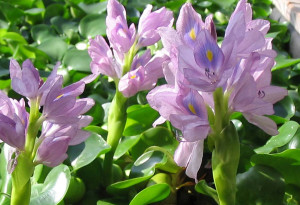 Zones: Nine to 11.
Exposure: Full sun to part shade.
This plant has bulbous, air-filled sacs, ending in rosettes of glossy-green leaves. A tropical perennial, water hyacinths have large lilac/bluish flowers that are delicate, lasting only one to two days. An aggressive feeder with long, filamentous purplish roots, these lush floaters are probably the most popular floating plant and are in high demand during the summer months. An excellent filter plant, especially suited for pond life, they stay flat and level with the water's surface. This is ideal, as hyacinths will brown and perish if turned upside-down and submerged.