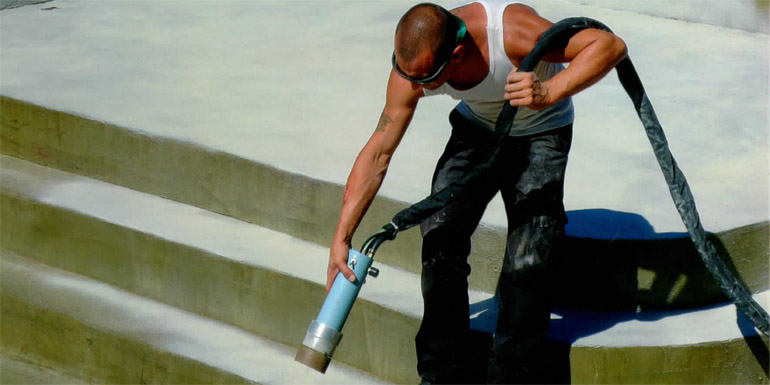 By Brian Burton
Those in the Canadian pool industry know how seasonal climate change can affect an inground pool surface. It is one reason why many pool owners turn to specialists when they are finally able to see what lies beneath their cover when they open their pool in the spring.
There are several pool repair/replacement options available for failed and/or failing pool surfaces, which range from paint, plaster, and vinyl liners to fibreglass and aggregates. A more recent option is high performance thermoplastic pool finishes.
In the past, pools were coated with rubber-based paints; however, in the late '80s, regulations banned many of the key ingredients in these products, which reduced their performance. This led many pool designers and builders to switch to plaster and other types of finishes.
Plaster (marcite), in its own right, requires a long and complicated start-up process and is prone to staining, shrinking, and cracking. When plaster—a mix of Portland cement and sand—is applied to a pool shell, it requires a cure time of at least two to four weeks. After the pool is filled with water, calcium (Ca) leaching occurs and various chemicals are required to balance the water's pH level. This adds to the time the homeowner must wait before they can enjoy their pool. For climate-challenged Canadians, this can shorten an already abbreviated pool season.
Some reports have found plaster deterioration to be caused by calcium hydroxide Ca(OH)2 leaching from localized areas of pool plaster, while acidic pool water can wreak havoc on plaster finishes and pool plumbing, resulting in etching and staining.
Proposed solutions to control pool surface damage caused by aggressive water include: paying careful attention to water chemistry to avoid unbalanced water conditions, or providing a chemically inert barrier, such as a thermoplastic finish, between the pool water and the marcite surface.
Thermoplastic finishes are designed for new pool surfaces or resurfacing of concrete (plaster [marcite], and Marbelite), fibreglass, steel substrate; aluminium; composite pool panels; and hybrid pools, which comprise a combination of different substrates.
Pool finish advancements
As technology advances, more options other than traditional pool surface repair methods become available. For instance, thermoplastic-spray systems incorporate multiplex powders comprising modified acrylic resins designed to obtain a smooth coating. The finish flows wet and bonds easily to form smooth and continuous cured films. These films become permanent pool and/or hot tub liners for new construction projects and can also be used to renovate existing indoor/outdoor commercial or residential pools and hot tubs. Thermoplastic finishes are gaining popularity as they are designed to be fade-, stain-, blister-, and peel-resistant and can be installed quicker than most traditional pool finishes.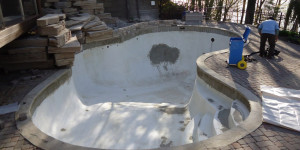 Thermoplastic pool finishes are applied pneumatically—air and propane operate the mobile spray system. The small thermoplastic powder beads are propelled through a patented applicator, melting and liquefying as they pass through the nozzle, and then solidifying when they hit the substrate.
Thermoplastic pool finishes capture the strength and durability of traditional pool surfaces while maintaining the beauty and architectural colour range of aggregate finishes. Customized decorative stencils and depth markers are also available. Trained installers can achieve various effects such as two-tone applications (a darker finish on the pool floor gives the illusion of greater depth), while stairs and other features can be highlighted. Two-tone colours can be melded together to appear and feel seamless.
Three different thermal-spray systems are currently being used in the industry: one is designed primarily for smaller projects and detail work such as the restoration of fibreglass steps, which can be performed on-site and in place. Standard systems are typically used for large pool projects and detail work, enabling installers to cover 14 m2 (150 sf) per hour. Finally, high output units, typically used for commercial pool applications, allow installers to cover 23.2 m2 (250 sf) per hour.
Benefits of thermoplastic pool finishes:
Resistant to acid, chemicals, salt, scale, ultraviolet (UV) rays, fading, rusting, staining, and corrosion;
Smooth, non-scratch, non-chip, non-peel surface;
High elastic memory;
Non-porous;
Excellent colour consistency on hybrid pool substrates;
No mottling;
Crack-resistant to -70 C (-94 F);
pH neutral (lowers chemical needs);
No volatile organic compounds (VOCs);
No heavy metals; and
Energy efficient in both manufacturing and processing.