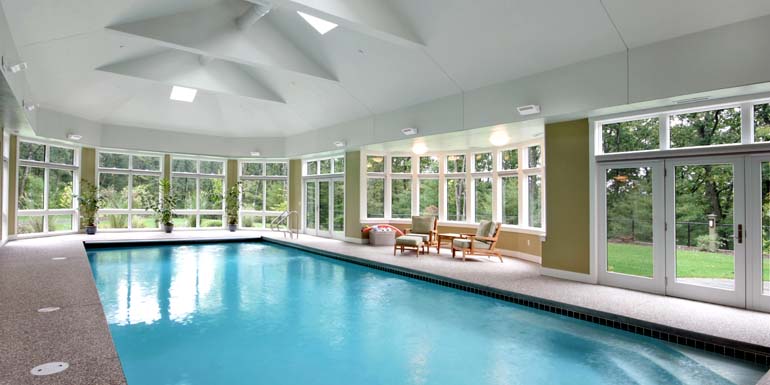 By Jason Smith
Recently, MZO Group, an architecture firm based in Boston, Mass., was tasked with a challenging problem—design and build a residential indoor, heated pool in the often cold, snowy Massachusetts climate, a scenario that could lead to significant moisture problems.
It was challenging request, made more complicated by the fact the pool house had to be isolated from the rest of the client's newly constructed home along a shared 10.6-m (35-ft) common wall. The design goal was to isolate the pool house from both the outdoors and the interior of the home as much as possible.
"I aimed to build a structure that you could turn upside down and it still wouldn't leak," says architect Eric Gjerde, MZO Group. To achieve this, a 'belt and suspenders' approach, with redundant safeguards against moisture problems, was used.
Building this unique structure required a well-planned design from architectural, heating, ventilating and cooling equipment (HVAC) and building science perspectives. Throughout the project, Jensen Development Corp., the homebuilder, and J&J Mechanical, the HVAC contractor, worked closely with the architects to ensure all systems would work well together.
Design considerations
Designing a heated indoor pool in a wood frame structure for a cold climate presents a unique set of challenges, as the potential for high humidity air to condense on a cold surface and cause mould or rot is high. When designing the pool house, there were several design requirements to consider, including:
a continuous air barrier system;
a continuous vapour retarder;
highly insulated wall assemblies; and
elimination of thermal bridging.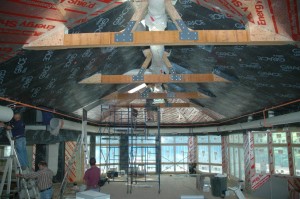 To help meet these requirements, closed-cell spray polyurethane foam (SPF) was selected, because it is the only insulant that can serve as an air, moisture and thermal barrier at once. SPF is the 'belt' in the belt-and-suspenders design, meeting the first three of the aforementioned design requirements. To meet the final requirement, 25 mm (1 in.) of polyisocyanurate board was used to eliminate thermal bridging from the studs.
"Closed-cell SPF is a great choice because it has a high R-value, or thermal resistance, per inch, serves as an air barrier and moisture retarder and increases the structural performance of traditional light frame wood construction," Gjerde says.
The 'suspenders' comprise a redundant self-adhered waterproofing membrane and moisture retarder between the polyisocyanurate board and interior gypsum. A mould- and moisture-resistant gypsum board was used and painted with a moisture-resistant epoxy coating. The exterior was sheathed in plywood, a less moisture-sensitive alternative to oriented strand board (OSB). The sheathing was then covered in a weather-resistive barrier and finished with cedar shingles.