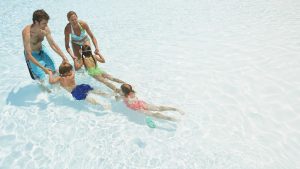 The City of Montreal has announced nine of its wading pools and three outdoor pools will be closed this summer.
As reported by CBC, several of the wading pools are being closed due to a shortage of disinfectants used to keep them clean, according to Quebec's public health institute (INSPQ). Some other wading pools which were already closed due to other reasons will remain so this summer.
Most of the pools that have been closed are fill-empty wading pools, which require daily filing and draining.
Several of the closed pools are scheduled to be given filtration systems, although most do not yet have a schedule for the work to be done.
Three outdoor pools (Raymond Park Pool in Lasalle, Marlborough Park Pool in Saint-Laurent, and Baldwin Park Pool in Plateau) will be closed for a variety of reasons, with the former being turned into a splash pad and skate park.
But city spokesperson Anik de Repentigny told CBC there are many cool down and swimming options for Montrealers this summer.
"The vast majority of swimming pools, wading pools, and splash pads will be open this summer," she said.
The article also noted the closures are indefinite as it's unclear when INSPQ will give fill-empty wading pools the green light to open again.