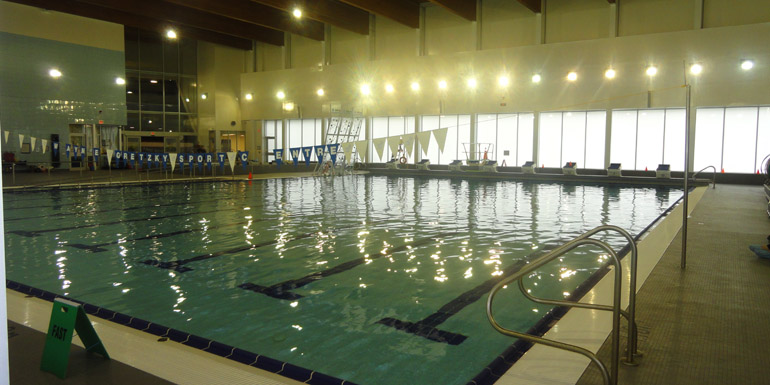 By James Whitaker
To be a competent builder, one must have the ability to adapt quickly to manage unusual known or unknown circumstances as they arise throughout the design-build process. This reality is particularly palpable in the business of aquatic construction. Pool and spa builders face many of the same challenges as those who construct homes and commercial buildings, in addition to the various challenges that are specific to the aquatics industry. To provide the owner with quality assurance, pool/spa builders have to make decisive and often radical changes to the equipment on site, labour allotment, labour skill-sets, design components, and special provisions to manage site conditions effectively.
This adaptability was necessary throughout the design and construction of the Wayne Gretzky Sports Centre (WGSC) expansion project in Brantford, Ont., which officially opened in September, where Acapulco Pools Ltd., of Kitchener, Ont., installed a new 25-m competition pool and lifestyle pool.
A great need to expand
In order to accommodate one of the fastest growing regions in Canada, the city recognized the need to adapt by upgrading and expanding its existing sports centre. In fact, the WGSC has been the only indoor aquatic facility in Brantford since it was built in 1974. The facility needed an upgrade and its overflowing schedule demanded more space to accommodate the region's growing needs. Numerous programs operate out of the facility, including swimming lessons, which drew more than 7,500 participants in 2012. The existing 65-m pool is an essential attraction to the facility drawing athletes from surrounding areas such as Hamilton, Simcoe, and Six Nations.
Brantford's lack of aquatic space and growing demands made it necessary to conduct a study to review the facility's degree of sustainability in the years to come. Host to community activities, swim team practices, synchronized swim training, diving competitions, Special Olympics team events, and more—the aquatic centre had reached its capacity.
Thanks to a Trillium Grant, proper studies were allowed to be conducted to assess the athletic facility and project the possible future for the WGSC and the region of Brantford. The grant outlined a broad vision of the facility's future, bringing together the community's needs in a new aquatic and multi-purpose athletic facility that would help promote an active and healthy lifestyle.
A number of great components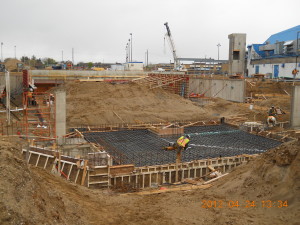 The aquatics addition to the facility was originally going to comprise a lifestyle pool and a leisure pool; however, the latter was replaced with an eight-lane, 25-m pool, which is a key component for athletes currently training at the natatorium as well as those looking for competitive aquatic space. This pool is an integral part of the aquatic program as it adds essential space for additional activities and special events at the facility. It will also host numerous competitions and swim practices, which will free up time in the 65-m pool and leisure pool for various community events. Adding to the natatorium's multi-event capacity, sliding doors were added between both pools to allow for two separate events to take place at the same time. To merge the new pools with the facility, Ball Construction Ltd., removed a portion of an existing wall.
The competition pool comprises Omega starting blocks (similar to what was used in the 2012 Olympics), and spray features, while a timing system for competitive swimming was roughed-in. The lifestyle pool features a shallow bathing area, which is suitable for swimming lessons, as well as a massage bench, spray features, and ballet rails for water fitness.
As part of the project, a new gas chlorination system, capable of providing sanitation for both new and existing portions of the expanded facility, was also installed. The upgraded system, designed by Aqua Plans Design Group in Kitchener, Ont., also includes digital scales and a remote readout panel located in the lifeguard's office. This panel displays individual tank weights, and will alert staff of high atmospheric chlorine levels in the event of a leak.