By Ralph Kittler, P.Eng.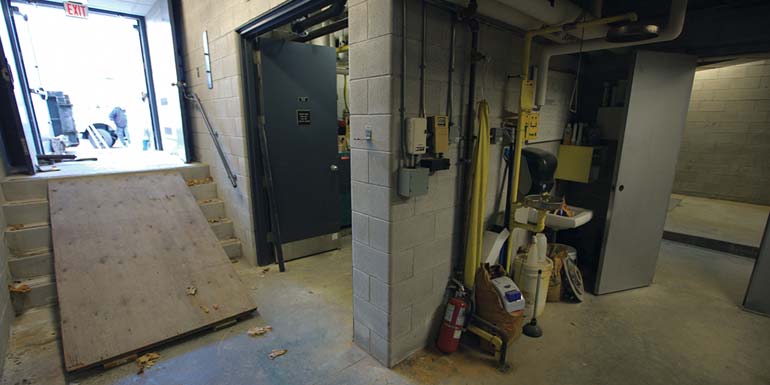 Many indoor pool managers will inevitably face the challenge of replacing the dehumidification system at their facility. There are hundreds of commercial aquatic facilities in North America; YMCA Canada, which is one of the country's largest pool owning organizations, has more than 40 indoor pools. The organization has 50 community centres throughout the country with roughly 85 per cent having an indoor pool, says Alexandra Marmalyga, administrative assistant, YMCA Canada.
The majority of these indoor pools either surpass 10 years of age or use refrigerants that are being phased out or are banned, which accelerates their obsolescence. Upgrading these facilities to current industry standards will be difficult. Unfortunately for facility managers, the majority of these pools' mechanical rooms were designed and built without much thought of replacing the dehumidifier. Thus, a majority of mechanical rooms have access doors that only pedestrians can walk through. Even double-door mechanical rooms cannot accommodate the removal of a small commercial dehumidifier.
Depending on how large the aquatic facility is, a dehumidifier system can range from 1.2 x 2.4 m (4 x 8 ft) to the size of a shipping container. To remove these units, the existing dehumidifier must be cut into several smaller sections to piecemeal them through the mechanical room doors. Once complete, the heating, ventilating, and air conditioning (HVAC) contractor faces a more skilful challenge—getting a new, similar-sized unit through the same access door(s).
This challenge will soon become real for many because dehumidifiers manufactured and installed between 1980 and 2000 are now reaching the end of their lifecycle. In fact, systems installed as recent as 2009 could be using refrigerants that are being phased out as per the Montreal Protocol.
Do not replace, just supplant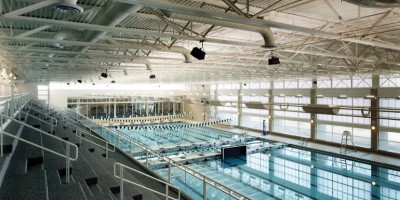 Manufacturers are well aware of this situation as they are now getting requests for replacement dehumidifiers with dimensions that will never fit through the equipment room access doors of an indoor pool requiring a retrofit.
To get around this impasse, alternative installation methods are now being used. One of the first of its kind was performed at Adlai E. Stevenson High School, in Lincolnwood, Ill. Instead of removing the school's 4.5- x 2.7- x 2.4-m (15- x 9- x 8-ft) and 4.5- x 2.1- x 2.4-m (15- x 7- x 8-ft) heat recovery dehumidifier systems (circa 1995), the school had all new components installed piece-by-piece into the existing shells of each unit after gutting them.
Conceived by the school district's long-time building automation and energy services contractor, this resolution circumvented $400,000 in construction costs to tear open a wall or roof for their removal, says Mark Michelini, CPA, assistant superintendent for business at School District 125. The natatorium's retrofit also included a new scoreboard, pool surfacing, and energy-efficient lighting.
The 20-year-old dehumidification systems used for the school's 3716-m2 (40,000-sf) natatorium, one of only four 100-m Olympic-size pools in the state, also required tens of thousands of dollars in annual maintenance and repair over the last few years.
The dehumidifier manufacturer commissioned for the project custom-built components for a 64- and 40-ton dehumidifier, including coils, piping inlet/outlet receptacles, and control packages that would fit inside the original manufacturer's steel-shell configurations.
This installation technique, which may become a standard retrofit procedure, was also approved by the school's on-site building services contractor, manufacturer's representative, and architect consultant firm. As a result, the school district signed a performance contract to guarantee the dehumidifier replacement challenge would be solved at a specified payback and cost.