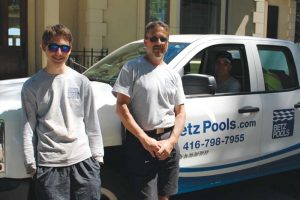 By Nick Warrick
Uniforms provide a professional image for employees and spread brand awareness for the business they represent. For pool retailers and service staff, who are often going to visit their clients, this is especially important. Clients need to be able to trust the workers entering their homes and yards to install or service their pools. Implementing uniforms will also allow staff to promote the company, keep up with competitors, and increase sales.
Establishing identity and confidence
A Cornell University study found uniforms positively impact employees' identities and job satisfaction, leading to improved performance.1 When employees carry the company brand on their uniforms, they gain a sense of identity and confidence, which translates into their work. They are reminded who they work for and feel obligated to provide the best representation of the company.
When employees are dressed uniformly, they feel they are part of a team, and they can count on the coworkers around them. With a unified sense of identity, work becomes less about the individual and more about representing the organization. This is especially important for pool service and retail staff, who are doing work outside of their company building.