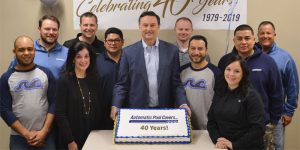 Automatic Pool Covers Inc., recently celebrated its 40th business anniversary.
To commemorate the occasion, the company held a party in late February to thank its employees and clients for helping the company achieve this milestone.
"We wouldn't be here today without our amazing employees and customers, to whom we are all very grateful," said the company's CEO Michael Shebek.
Automatic Pool Covers Inc., opened its doors in 1979 as a small pool cover distributor.  At this time, Shebek worked side-by-side with his father, Mike Shebek Sr. The future CEO spent more than 20,000 hours installing and servicing covers. Eventually, he took over as owner of the company in  2000. That same year, the company started manufacturing its first automatic pool covers.
"We decided to manufacture covers because there was a need in the market to create a product that was designed by and for installers," said Shebek.
The company's commitment to innovation and fast turnaround times has fuelled its growth and drove the need to expand the company's facility.
"We have experienced exponential growth in the last couple years and, therefore, needed to increase the size of our manufacturing and warehousing facilities," said Shebek. "The expansion seemed fitting in the wake of our 40th anniversary."
The company's celebration was held at the newly expanded manufacturing facility, complete with a big anniversary cake.