Selling strategies to help retailers earn more profits
By Ted Lawrence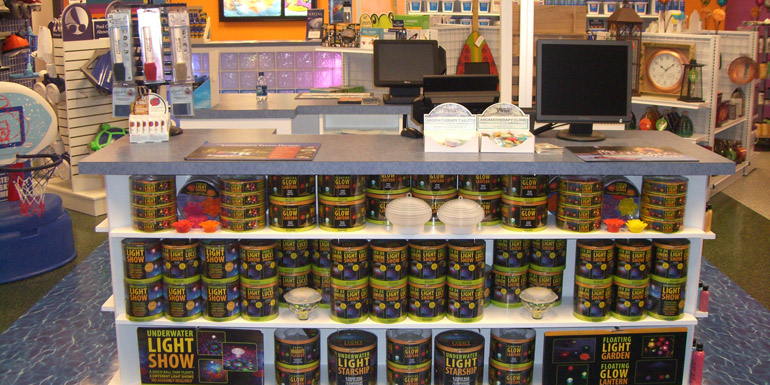 Retailers always want to sell more pools, spas, and chemicals, yet one of the most important and ignored profit centres are accessory sales. Pool and spa industry members often scour tradeshow floors and talk to vendors to learn about the latest gadgets currently on the market; however, many pay little attention to offering these accessories, which could potentially make their business the most amount of money.
Every retailer wants more customers and sales; however, the easiest way to increase and blend profit margins is to sell more to their current customer base by offering a great lineup of backyard-related accessories. Accessories can be grouped into four categories: necessity, complementary, impulse, and market specific, with each having their own specific purpose.
A virtue of necessity
Necessity accessories are products (items) the consumer needs to make what they have purchased (e.g. swimming pool, hot tub, heater, filter, etc.) operate properly, whereby enhancing their experience with the main product. For instance, a customer would not be sold a sand filter without sand, a skimmer without gaskets, an above-ground pool without a ladder, or even a chlorine generator without salt.
Most of these necessity accessories are common sense and are extremely important to the consumer. For example, everyone has fallen victim to necessity accessories especially if they have purchased a product that does not include batteries, and only to realize this after getting home. In these cases, the retailer is typically blamed for not informing the customer of this 'necessity' product. Therefore, staff should be trained and informed to add-on these accessories to customer purchases.
Keep in mind, just because this accessory is a necessity, it does not mean the opportunity to sell something unique does not exist. For instance, when selling an above-ground pool, for example, it is known that the customer will also need a ladder to use it; therefore, accessorize the accessory. In other words, instead of simply selling them a ladder, sell them an 'entry system'—a set of stairs leading in and out of the pool. This makes using the pool more enjoyable for the consumer and it increases the average sale and profitability margins.
With complements
Complementary accessories can be products or categories of products that can be sold with, but are not required to operate, the initial product being purchased. For instance, after installing an inground pool for a customer, the following products would work well in complementing their purchase: patio furniture such as seating groups and chaise lounges, firepits, patio heaters, misting systems, landscape lighting, and of course, in-pool toys and games. These products are currently the hottest selling accessories for creating the ultimate backyard getaway. By adding some of these complementary accessories, the selling price of the swimming pool can be increased by 25 to 75 per cent.
It is the process of selling more pool-related products and thinking 'outside the pool' in other opportunities. Further, these are unique items that can be sold to any consumer walking into the store. The top 10 hottest complementary accessories in the past year include:
1. Pet products (e.g. floats, toys, swimsuits, and ramps).
2. Light-emitting diode (LED) toys, games, and floats.
3. Bean bag floats and lounges.
4. Large island floats and boat towables.
5. Lawn games (e.g. bocce, lawn darts, and bags and washers).
6. Basketball hoops and court installations.
7. Sunglasses.
8. Outdoor décor and signage.
9. Grills and outdoor kitchens.
10. Fireplaces and firepits.
As these may be items the consumer does not know are available, they should be displayed in highly visible areas throughout the store.
On impulse
Ever wonder why home improvement and office supply stores sell soft drinks, candy, and potato chips? These items do not fit with what they are selling, so why do they have them? The reason—it is all about consumer impulse and profiting from it. By selling customers $1 more—in addition to their initial purchase—times 200 to 2,000 customers per day, results in a huge increase in profits. So the idea is not necessarily selling candy and soft drinks, but rather finding the right product in order to capitalize on impulse purchases in the pool/spa industry.
True impulse items need to be inexpensive, $1 to $10 maximum. These are items both adults and kids can relate to and are capable of being positioned around the checkout counter, allowing customers to easily pick them up and include it with their purchase. The following items may work well as impulse items:
LED or glow in the dark bracelets, lighted rings, and jelly watches;
Neon-coloured goggles merchandised in a clear bucket in assorted colours;
Water noodles, beach balls, and squish pool balls;
Tiki torches;
Reusable water bottles;
Sunscreen and lotions;
Kids chalk and washable paint;
Personal misters and squirt guns; and
Smartphone emergency kits and waterproof cases.
Market specific
These are specific items and products that tie a pool/spa retailer to their community, town, or city, making them relatable to area residents. For example, items with the local school colour or products that have the local sports team logo.
Create a section in the store and group all of these products together. If the store is in between two towns with competing teams, have some fun with it. Show both and create a little product rivalry in the store.
There are various types of accessories that pool/spa retailers can offer their customers, and all of them are not needed to be successful. Test the market by incorporating a few of the accessories suggested in this article and reap the benefits with increased sales and profits.
Ted Lawrence is a global retail specialist with Pool Corp., a wholesale distributor of swimming pool supplies, equipment, and related leisure products in Cleveland, Ohio. He has served the swimming pool industry for more than 20 years and is an authority on retail, sales, and management. Lawrence is also a regular seminar presenter at various national and international industry events, and participates on several professional retail boards and councils. He can be reached via e-mail at ted.lawrence@poolcorp.com.