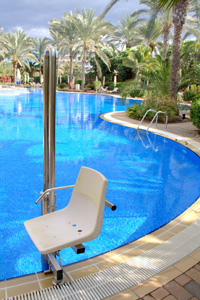 The commercial swimming pool/spa industry in the U.S. has been granted a 60-day extension for complying with a new rule aimed at making existing aquatic facilities compliant with the Americans with Disabilities Act (ADA).
The 2010 Accessibility Standards, adopted by the U.S. Department of Justice (DOJ), the federal agency charged with enforcing the ADA, requires pools and spas provide accessible means of entry for individuals with disabilities. The original compliance deadline was March 15.
According to a statement by the Association of Pool & Spa Professionals (APSP), pool/spa facilities in school districts, municipalities, cities, counties, commercial facilities and hotels are affected.
"The requirements apply to all facilities constructed or renovated on or after March 15," says Jennifer Hatfield, APSP's director of government relations. "Existing facilities must be brought into compliance to the extent it is readily achievable to do so.
"Pools with less than 91.4 m (300 ft) must have at least one means of access, which may either be a sloped entry or pool lift. Larger pools must add a second means."
For facilities where compliance is not readily achievable by the effective date, the APSP advises them to have a written 'barrier removal' plan in place documenting its efforts. A pool is not required to close due to lack of accessibility accommodations. Additionally, the written plan would insulate a facility against potential fines or other legal actions.
For more information about the ADA as it relates to pools and spas, visit  www.ADA.gov.