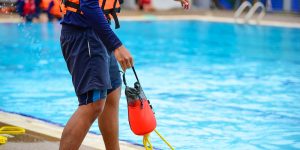 American Pool has moved all lifeguard training and licensing nationwide to Ellis & Associates (E&A) effective immediately.
Dan Lawler, president, American Pool Commercial Aquatics, was adamant about his desire to set the highest standards for safety.
"American Pool carefully evaluated all aquatics safety programs and we came to the conclusion the Ellis & Associates programs are the best. They have a decade's long track record of safety, anchored in their unified mission for zero drownings," he said. "At American Pool, our daily mission is identical and this program puts us in a position to better achieve that goal. E&A delivers training with a blended learning style seen in higher education, but typically not in an aquatics training environment.
"It's amazing and innovative in our space. The ability to adapt the delivery of information to the learning style of each individual means we are elevating the skills and focus on safety with each lifeguard we employ. When you hire as many as 10,000 lifeguards each year, this must be our highest priority."
E&A's comprehensive suite of services includes lifeguard training, instructor training and certification, health and safety education, and risk management programs. All are designed to increase operating efficiencies, improve staff performance, and ultimately improve swimmer safety. Courses accredited by the International Association for Continuing Education and Training (IACET) give students continuing education credits and ensure the highest level of professionalism.
Richard Carroll, vice-president and COO of Ellis & Associates, said the partnership with American Pool is a serious undertaking and one that E&A stands ready to support.
"American Pool serves a very large number of aquatic facilities and has thousands of lifeguards under their purview. We understand this important responsibility and share American Pool's commitment to the highest standards of care and guest service," said Carroll. "Our entire training arsenal, and our team of industry experts support this mission. From online content and blended learning, to onsite instruction and training, E&A staff will equip American Pool leadership with the tools and resources they need to achieve our joint goal—the prevention and elimination of loss through drowning."