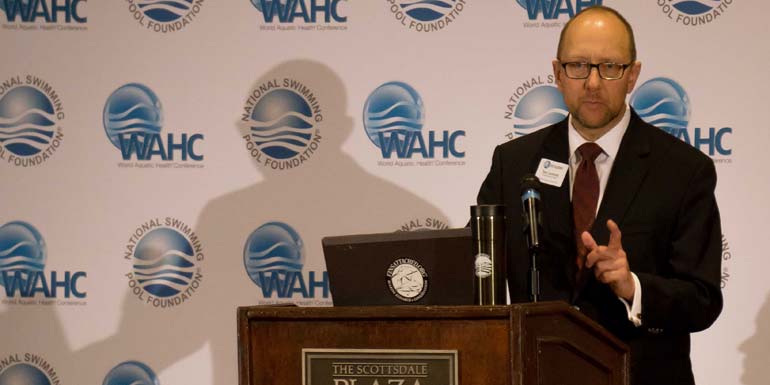 Eleven different nationalities, including Austria, Australia, Canada, China, Germany, Mexico, Norway, Sint Maarten, Ukraine, the U.K., and the U.S. (with a record-setting 46 states), were represented at the 12th annual World Aquatic Health™ Conference (WAHC), held in Scottsdale, Ariz., this past October.
"People are safer and the future looks more prosperous as a result of the industry, government, and academic leaders coming together to prevent injuries, illnesses, and drowning, while also promoting the health benefits of aquatics," says National Swimming Pool Foundation® (NSPF®) CEO, Thomas M. Lachocki, Ph.D. "It's eye-opening to see how much people can benefit from our industry. The future is bright!"
WAHC guests were able to attend two keynote addresses and pick from more than 50 different seminars that focused on drowning prevention, facility management, health benefits, health codes, new technology, advanced chemistry/disinfection byproduct prevention (DBP), and recreational water illnesses (RWI) prevention. Two new tracks—designed to encourage the conference's theme 'Shaping the Future through Aquatics'—were presented on market growth and 'Water Immersion Works.'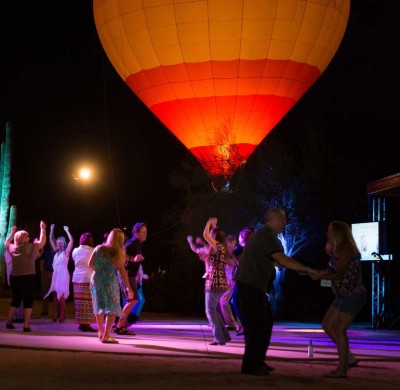 Many aquatic organizations also held committee and council meetings in conjunction with the WAHC. The Council for the Model Aquatic Health Code (CMAHC), for instance, held its first biennial 'Vote on the Code' conference during the event.
"Attendees really drove the discussions during the conference," says CMAHC executive director, Doug Sackett. "We're really pleased with the attendance at the conference and with the live-streaming.
"The streaming gave our 'virtual' attendees the opportunity to participate in the discussions in real-time using live chat for questions and comments on the content being presented. Overall the first 'Vote on the Code' conference was a success."
Prior to the WAHC, an NSPF instructor school was held with 37 students earning certification. This was also the first year the NSPF offered a marketing workshop, with a marketing consultant, to provide tips and tools to support its instructors. Following the workshop, the NSPF recognized 34 global instructors with awards for outstanding achievements. Additionally, the USA Swimming's Regional Build a Pool Conference held a meeting immediately after the WAHC.
During the conference's welcome reception, the NSPF's 50th anniversary was also celebrated. In honour of the occasion, those in attendance enjoyed the desert setting, complete with delicious food, a mariachi band, hot air balloon rides, and were presented with stemless drinkware keepsakes.
The 2016 conference will be held in Nashville, Tenn., at the Sheraton Music City Hotel on Oct. 19-20. For more information on registering, sponsorships, keynote speaker opportunities, and scheduling meetings, e-mail conference@nspf.org.